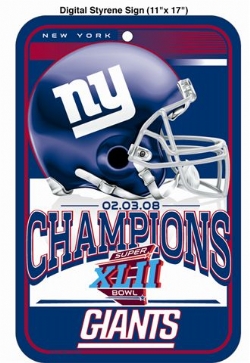 Miracle #1: What a great game! This is what football is all about. This has got to be the best game I've witnessed in a long time, if ever, and is definitely better than any other SuperBowl I've watched.
Those who might know me know it is no secret that I don't like the Pats. Not entirely sure why. But, probably because (a) they have been so good for so long, and I get sick of dominance like that (unless it's my team, of course (yeah, right)) and (b) Brady just has this air of arrogance about him that drives me nuts. So, I was hoping against all hope all season long that they would lose and we wouldn't have to hear any more about this "perfect team", "best ever team" and so on. When they finished the season undefeated, I thought the best would be to lose their first game in the playoffs. Of course, they didn't. Nor their second. But, to lose the last game, the one that leads to final perfection and the history books, maybe that is the most poetic ending to their season. Hooray Giants!
By the way, I'm not the biggest Eli fan. I think that what they did on his draft day was a bit low. But, he did what he felt he had to and it has worked out for him. Congratulations to him and the Giants!
This was an overall great game. The Giants defense was just stellar. I don't know if Brady was still a little hobbled or not, but I don't think that was everything. The Giants just smothered him. Moss isn't all that useful if you can't get him the ball. And, there were no particularly bad calls in this game that significantly influenced the outcome (unlike the *cough* Steelers-Seahawks game *cough*), though I expect Pats fans will think so (I might give them the non-call on the push off the Giants WR did to catch that one deep ball (was that Toomer?)). And that scramble Eli did to avoid the sack? He didn't complete the pass, but he should have been down. That was an amazing scramble! Kept the Patriots from getting even better field position.
And the lead changes! At the end, when Brady started methodically going down the field, I was thinking "Not again!" The Pats always seem to have a game-winning drive at the end. And here they did it again. But, they couldn't stop the Giants from doing the same thing! Sweet!
And what about the non-field-goal? Should Belichick have gone for the field goal instead of the deep pass on that one drive? A field goal was the difference in the end. And what a difference! How many games did the Pats squeak by at the end of the season by only a field goal? And all of their SuperBowl wins? (I hadn't realized that until they showed the graphic.) There is some justice that they lose by the same field goal. Would they have gone for it here if they still had Vinateri? The guy that made the difference for them so many times? The world will never know.
In my previous post, I had said that it would be great to have a miracle on San Blas day and have the Giants win! And, they did! Hooray again!
Miracle #2: I didn't sleep well last night. I'm guess I'm an old fogy and can't expect to have just beer and chips for dinner and be fine. I woke up at 12:30 with a stomach that was feeling pretty bad. It had been snowing off and on during the day and I was hoping that it might snow enough for a partial lab closure. And, sure enough, when I woke up, there was a 2 hour delay so they could clear snow from the parking lots! Perfect! I got another hour of sleep! This was especially nice because otherwise I would have had to get up early to shovel our own sidewalks before heading to work.
If that San Blas character weren't already a saint, I'm thinking these two miracles might be enough to get him there. Almost makes me a religious man. But, I think that'll have to wait until the Vikings win the SuperBowl!