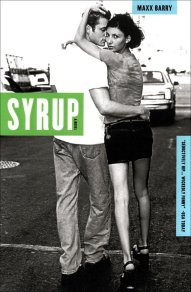 As you might guess by some of the postings on this site, I have a little problem with some features of our modern, consumerist society. And, directly related to that is how marketing is so tied into our psyches that we are almost literally forced to buy things we have no need of, but want nonetheless. Marketing is the engine that drives our consumer-based economy.
I first encountered Maxx Barry through his novel Jennifer Government. This is about a not-too-distant future in which we identify so strongly with the brands we consume, that we actually take our names from who we work for. Thus, Jennifer works for the Government. It is a scathing view of our market-driven world.
Syrup, in contrast, could take place today or tomorrow. Or even yesterday. It is about a young marketing major, who has renamed or, better said, rebranded himself as Scat, as that is cooler than the name he was given by his parents. He comes up with a million-dollar idea and tries to sell it to Coke, via one of their marketing people, a woman named 6. Scat is screwed out of his millions and thus begins his long path to success and his quest to win 6's heart.
The novel is about how marketing is used to sell us things we don't want, don't need, but are convinced we should have. It is about the role of marketing in society and, as such, is sprinkled with marketing examples that, I presume, are from real-world marketing text books. These examples are pretty blatant in their assumption of the low intelligence levels of the masses. The scary thing is that most of these examples actually work. It would seem we are sheep waiting for someone to tell us something, anything, to do to make our lives just a little bit better.
Eventually, Scat ends up in a struggle with his nemesis, who is also at Coke, and who has put Scat into an impossible situation to succeed. Even though we are pretty confident that Scat will succeed (most protagonists do seem to succeed most of the time), how he will pull it off is always uncertain. This leads to enough tension and suspense that the reader is sucked in. And we are never quite sure how Scat's relationship with 6 will turn out.
As a commentary on the role of marketing and advertising in our society, I find this and Jennifer Government to be extremely interesting and, might I say, insightful. I think that if we truly realized how much we are manipulated by marketing, we would be appalled.
I am reminded of the lawsuits against the fast food industry for causing obesity. I find these lawsuits pretty damn annoying, because I think that, as a society, we don't take enough responsibility for our actions. However, I also believe that the fast food industry isn't innocent. They know more about how we think and feel than we do, and they play to our human instincts to, in some sense, force us to want their product. In some real sense, I think we can't help ourselves, and these companies are more responsible for some of the ills that face our country than we or they are willing to admit. While we absolutely need to be responsible for our own actions, companies need to be responsible for manipulating our emotions and desires for their own profit.