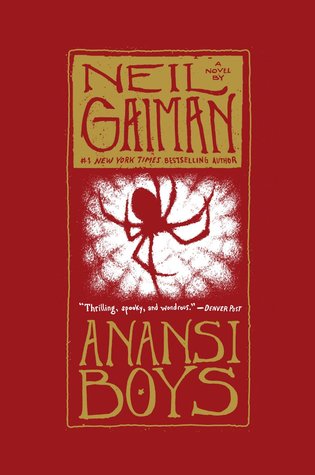 Neil Gaiman is always an entertaining and often a thought-proving writer. In Anansi Boys, he tells the story of Fat Charlie and his brother Spider, a brother Fat Charlie didn't know he had until he was well into adulthood. Their father is rather special, but Fat Charlie doesn't know that. He only knows that his father is a good-for-nothing that seemed to abandon him and his mother when he was a child. It is only when his father dies and Spider comes into his life that he realizes who his father, and by extension he himself, really are.
Gaiman shifts the story telling from the point of view of different characters, some of which are actually quite creepy. His characters are well developed and he gives even the worst of the villains solid motivation.
As Fat Charlie learns about who he is and who is brother is, they both have to escape the plots of powerful forces aligned against them. Without revealing too much of the plot, they have to learn to work together to make it out alive.
Gaiman's writing is always clever, and he has a number of nice lines that were memorable:
"The nature of parents is to embarrass merely by existing, just as it is the nature of children of a certain age to cringe with embarrassment, shame, and mortification should their parents so much as speak to them on the street."
"Today, like every day, roughly five thousand people on the face of the planet will experience one-chance-in-a-million things, and not one of them will refuse to believe the evidence of their senses."
"…he noticed that anything louder than the gentle Brownian motion of air molecules drifting softly past each other was above his pain threshold."
"…as a small girl she had been unable to envision a God who disliked anyone enough to sentence them to an eternity of torture in Hell, mostly for not believing in Him properly…"
"The important thing about songs is that they're just like stories. They don't mean a damn unless there's people listenin' to them."
"Naturalists have pondered this for years: there are spiders whose bite can cause the place bitten to rot and to die, sometimes more than a year after it was bitten. As to why spiders do this, the answer is simple. It's because spiders think this is funny, and they don't want you ever to forget them."
As with all of the Gaiman I have read, in Anansi Boys he deftly combines a clever plot with great characters and some deeper rumination about the world we all share. Another great story by a master storyteller.