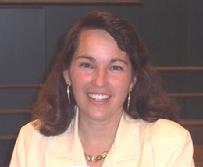 Christine Echeverria Bender is a writer who's historical novels have focused on the lives and adventures of prominent Basques during the Age of Discovery. She has written about Columbus' voyage in
Challenge the Wind
, Juan Sebastian de Elcano's role in Magellan's circumnavigation of the world in
Sails of Fortune
, and, in her most recent novel
The Whaler's Forge
, the Basque whalers who explored the North American east coast. Here, she shares with us how she researches the various eras and people she writes about, her inspiration, and gives us a glimpse into what her next novel will be about.
Buber's Basque Page: First, let me begin by congratulating you on the publication of your most recent book, The Whaler's Forge! I am excited to read it, having just finished Sails of Fortune.
Clearly, you are of Basque heritage. What is your background and your connection to the Basque Country and culture? Was the Basque culture an important part of your childhood?
Christine Echeverria Bender: Thank you for your kind congratulations. I'm so glad you enjoyed Sails of Fortune.
My father's family comes from the village of Lekeitio. I grew up in Boise where we learned to dance with the Oinkari dancers and we participated in many other activities of the Basque Center. My Basque grandmother was a fabulous cook who gave me an appreciation for Basque food. My mother, though not Basque, supported our Basque cultural experiences.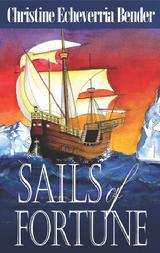 Sails of Fortune
BBP
:
Your last three books (The Whaler's Forge, Sails of Fortune, and Challenge the Wind) all revolve around Basque characters during the Age of Discovery. What draws you to that period of history? Are there other periods you are also interested in writing about?
CEB: This was a period of great achievement for the Basques. As seamen, their expertise was rivaled by very few. Not many European voyages of exploration took place without Basque-built ships, navigators, captains, or crews. The Whaler's Forge is set in 1364, a time when the seas as well as the land held perils and hardships almost unimaginable today. The level of courage and tenacity needed to survive was astounding, so the characters and stories are very compelling. I'm also interested in the pre-history of the Basques, and I hope to write a novel about that early era someday.
BBP: When reading Sails of Fortune, I had exactly that impression, that the difficulties and situations the crew encountered are just something I can't imagine in our modern world. In that book, you describe the passage of Magellan's fleet around the tip of South America, their encounters in the Philippines, and their dealings with the Portuguese at Cape Verde. I imagine in The Whaler's Forge you also delve into such exotic locals and experiences. How do you put yourself into those situations? Did you try to retrace parts of Magellan's original voyage?
CEB: When researching my first novel, I was fortunate enough to sail aboard replicas of both the Nina and the Santa Maria. Those experiences did much to help me empathize with my characters in the Columbus story as well as in Sails of Fortune. Although I did not sail the same waters as Magellan, I traveled to Getaria, Spain, the hometown of my protagonist Elcano, to gain insights into his character. For The Whaler's Forge, my research took me to six Canadian province and on an archaeological dig with a team from the Smithsonian Institution. We found many artifacts at a Basque whaling site along the St. Lawrence.
BBP: Your two previous books, Challenge the Wind and Sails of Fortune, were based on specific voyages that presumably had at least some original source material from which to draw upon. For The Whaler's Forge, it seems you are not focusing on any specific historic event but rather a time period. Was that harder or easier to write? What were the specific challenges in not having documents to draw from?
CEB: In some ways it was easier, in others, it was more difficult. Not confining the boundaries of The Whaler's Forge to specific accounts allowed me to bring out the most dynamic aspects of the New World during a little known era, and of the lives of Basque men plying a dangerous and fascinating trade. The initial relationships with Native Americans could also be explored more freely. However, my research delved even more deeply than usual as I investigated a wide array of historical, anthropological, and archaeological sources. It was important to me to present this broader story with historical integrity. One particular challenge was finding detailed material on the Naskapi culture. I eventually located individuals who have spent their lives in such study, and who generously shared their knowledge.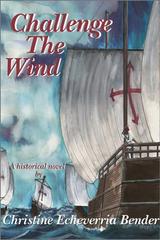 Challenge the Wind
BBP
:
Sails of Fortune describes Magellan's voyage from the point of view of Elcano, a historical figure that few, if any, Americans know about. In school, we learn that Magellan was the first to circle the globe, even though, of course, he died along the way. Is Elcano a figure known in the rest of the world? Why do you think he is unknown in English text books?
CEB: In Europe, everyone seems to know Elcano's story. Perhaps we in the U.S. learn only about Magellan because he was the organizer of the voyage, the one appointed by the king. While in school, however, we investigate the voyage very briefly. If this incomparable contribution to world knowledge were studied in more depth, Elcano would surely surface as a crucial figure.
BBP: I imagine you are familliar with Laurence Bergreen's Over the Edge of the World, another accounting of Magellan's voyage. His characterization of Elcano seems very different than yours. Bergreen's Elcano is more self-serving, more after personal glory. Are these differences different interpretations by two authors of the original logs or are both Elcano's present in those logs and you each chose to focus on different aspects? How much do we actually know about Elcano's attitude and role during the expedition?
CEB: I've not only read Laurence Bergreen's book, I've communicated with him concerning a few points upon which we disagree. The historical record leaves many gaps that do indeed allow for different interpretation of Elcano's character. Elcano participated in the fleet's mutiny, along with many others, but was this done because of selfish motives or did he feel compelled to follow the orders of his own ship's captain? The most compelling evidence into his true motive lies in the fact that, after imprisoning all the surviving mutineers during their winter encampment, Magellan himself restored Elcano to his prior rank. This strongly implies that, having executed Elcano's former mutinous captain, Magellan felt he could trust Elcano. And Elcano proved himself trustworthy again and again as the voyage progressed, ultimately delivering the only surviving ship back to Spain. Nowhere in the documentary record did I find conclusive evidence that disproved Elcano's basic honor.
BBP: It seems that the story of Magellan's voyage, especially with the characterizations you've put into it, would make for a great TV mini-series. Has anyone ever approached you about adapting the story for TV?
CEB: I haven't been approached yet about Sails of Fortune, but I'd love to see it made into a film or TV series. This is a story that just hasn't reached the public through film, and it has so much to say about this era as well as about man and his tenacity. Challenge the Wind was considered by a Hollywood producer for 6 months but, in the end, his company decided it would require too big a budget for them. Mr. Spielberg, I'm available.
BBP: Besides pre-historic eras, are there other specific Basque personas that you are interested in exploring some day?
CEB: My next book is about Juan Rodriguez Cabrillo, founder of San Diego in 1542, but a Basque navigator named Andres de Urdaneta will show up in the story. He was one of the few survivors of the Loaisa voyage (Spain's second voyage of circumnavigation), as well as a monk, and the discoverer of the safest route from the East Indies to the New World. An amazing man.
BBP: How did you choose historical fiction as your medium, as opposed to purely fiction or a historical account that describes only the known facts?
CEB: History fascinates me, especially the little known elements of stories that have changed our world in notable ways. I tend to research like a non-fiction writer but fiction allows me to get to the hearts and minds of the characters. Although adult fiction, my books have become recommended reading by some departments of education, and I've been told it's because people remember history if it touches them through a story. That means a great deal to me. It's my goal as a writer.
BBP: I'll admit, I was a bit hesitant to begin Sails of Fortune as I tend to like my history more direct, without the embellishments of fiction, but I agree, I think I will remember your account much longer than I normally do precisely because of how you delve into the psyche of the characters. How do you approach doing this? I imagine that it is hard to, well, imagine how those people felt and thought since it was such a different time. How do you get into their mindset?
CEB: Through deep research of their lives and times, I try to form a detailed understanding of the characters. I search for what motivated them and how they most likely dealt with their challenges. I try to step into their shoes and determine how I would have felt and acted if I were born then, under those circumstances, and I had been given the same choices?
BBP: There are so many characters like Andres de Urdaneta. I could imagine Lope de Aguirre, Ignatius of Loyola, or more modern day figures such as Jose Antonio Aguirre would also make great protagonists. What most attracts you to a particular person, to choose that person to write about? Any Basque women on your list?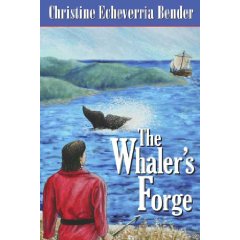 The Whaler's Forge
CEB
: I tend to choose characters that played a fascinating role in world history. Some of the early writings of St. Ignatius may very well appear in my next book about Juan Cabrillo. As for Basque women, I may one day write about the Inquisition in the Basque Country and the women would definitely be featured.
BBP: Is there anything else you'd like to say to the readers of Buber's Basque Page?
CEB: I'm very grateful for those who've been so supportive of my work, including the producers of Buber's Basque Page. I hope to continue to write of the historical contributions and adventures of the Basques for many years to come. Their stories need to be told.
BBP: Eskerrik asko, Christine!
This page is part of Buber's Basque Page and is maintained by Blas Uberuaga.
Please report any problems or suggestions to Blas.
Eskerrik asko!