<!img src="../../ImagesNew/Head/clear.gif"> buber.net > Basque > Surname > U > Unamunzaga
For security reasons, user contributed notes have been disabled.

UNAMUNZAGA El caserio Unamunzaga esta en San Andres de Etxebarria, cerca de Markina. Existe una rama derivada de este que es Unamunsaga, en Murelaga (Bizk) con ramas posteriores en Segura y Eibar (Gip).

Sobre el significado hay tres teorias: 1.- Lugar de colinas de gamones o asfodelos. 2.- Lugar de la colina del vaquero. 3.- lugar de colinas de pastos. El problema esta en el significado de UNA, Oyhanmburu cree que lo mas probable es que sea la tercera. Mitxelena cree que viene de Unai o Una (pastor)

Escudo: En oro tres lobos de sable andantes puestos en palo (hay varios escudos mas).

Pablo Unamunzaga sent the follow photo of the coat of arms: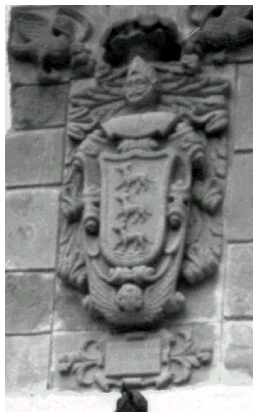 This page is part of Buber's Basque Page and is maintained by Blas Uberuaga.
Please report any problems or suggestions to Blas.
Eskerrik asko!