When I visited my dad's family in Munitibar, I'd stay with his brother Martin and his wife Rosario. They ran the Herriko Taberna. Each morning, after I woke up, I'd make my way to the bar. Rosario was already hard at work, cleaning the bar and preparing the days meals. I'd take my seat at the bar and she'd serve up a cafe con leche and a pastry. I never really gave it much thought, but those pastries stayed with me, their subtle sweetness and simplicity perfect for starting the day. It was only much later that I realized their unique place in the life of Bizkaia.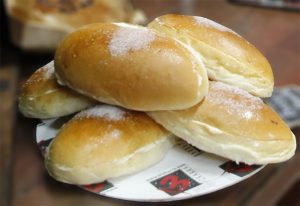 Primary sources: Bollo de mantequilla, Wikipedia; Bollos de mantequilla from Bilbao, Bake Street; El bollo de mantequilla, Conoce Bilbao con Esme; Los 9 Mejores Bollos de Mantequilla de Bilbao, BilbaoClick
If you get this post via email, the return-to address goes no where, so please write blas@buber.net if you want to get in touch with me.