After all of these years, I just realized that I never really introduced myself. I've just been this vague presence behind this website, and while people may know of Buber, they don't really know anything about Buber. So, Who is Buber?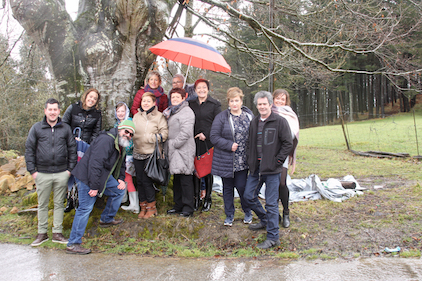 Buber is Blas Pedro Uberuaga. I was born in Idaho. My dad, Pedro Uberuaga Zabala, was from Munitibar, Bizkaia. He had come to the United States when he was 18 years old, and came to be a sheepherder in the US west, primarily eastern Oregon and western Idaho. He had a few uncles who had already made their way to America and he followed in their footsteps. He was the oldest of eight children and the only one to leave the Basque Country.
My mom, Monica Uberuaga, nee Telleria, is from Jordan Valley, Oregon, a little hot spot of Basque culture. Her dad, Jose "Joe" Maria Telleria, while born in the United States, was the son of Basque immigrants, Blas Telleria and Ines Eiguren. Blas was from Mutiloa, Gipuzkoa while Ines was from Ispaster, Bizkaia. Joe ran the local grocery store in Jordan Valley, Telleria's Market, for many years before retiring.
Growing up, I did a bit of Basque dancing, as part of Gloria Lejardi's Caldwell dance group, but I hated it (through no fault of Gloria's!) so quit as soon as I could. As an undergrad at the University of Idaho, I spent a year in Donostia as part of the University Studies Abroad Consortium. I took a semester of intensive Basque, focused on Batua, but I would spend my weekends with my dad's family in Bizkaia and I had a hard time with the dialect and it was simply easier to speak in Spanish, so I didn't learn as much as I could.
I went to graduate school at the University of Washington, studying physics. It was during that time that I started this page. I had some free time and wanted to learn HTML, so I just started putting up notes from my time in Euskal Herria. I was also part of the crew that started the Seattle Euskal Etxea (SEE), which is still going strong. I made a lot of good friends during that time.
When I graduated, I found myself at Los Alamos National Laboratory in New Mexico, where I still work as a scientist focused on computational materials science where I study problems related to radiation effects in materials. I was part of the group that started the New Mexico Euskal Etxea (NMEE), which tried to recognize the long history of Basques in the region. Unfortunately, because of several reasons, that club has stalled, though there is always the hope of a revival.
My wife, Lisa Van De Graaff, has been super-supportive of these endeavors, playing a large role in the activities of SEE and NMEE. We've been able to go to the Basque Country together a number of times now, where I've introduced her to my family, the culture, and the food, including the boiled octopus my aunt pulled out of a pot, surprising us one morning. More recently, we've had a great time introducing our daughter to the Basque Country and her extended family. Lisa and I try to incorporate elements of Basque culture as much as we can at home so our daughter has some introduction to the culture of her amuma and aitxitxe.
The name of this page — Buber — comes from my name: B. UBERuaga. It was the name I was assigned for my first email account at Washington.