Sometimes, you just miss the most obvious things. I've been to Bilbo several times, but I never thought to take the funicular up to Artxanda. But, that's the beauty of traveling with others, they make you think about things differently, explore new avenues, push you beyond the familiar. The funicular itself is iconic, though in the height of summer it was crammed full of sweaty people. Still, we took it up and took in the sites that Artxanda, a beautiful green space overlooking downtown Bilbo, offers. Well worth the cramped quarters!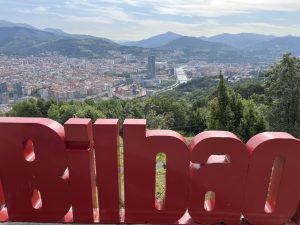 Artxanda is one of two mountain ranges that surround and define the city limits of Bilbo, the other being Pagasarri. Artxanda is closer to the center of the city and, as a consequence, has seen a lot more development. The first houses were sold and constructed around 1668, when the name of this particular summit was Sondicabaso.
The Artxanda funicular connects the center of Bilbo with the Mount, specifically the Mirador de Artxanda. Artxanda had already become a popular destination for the residents of Bilbo and, in the early 1900s, it was proposed that the two become connected by a funicular. Approval was granted in 1915 to build the funicular, but with a few conditions, amongst them that inebriated passengers or passengers carrying smelly packages not be allowed to ride. Another condition was that a side path be built for emergencies. The cost was about 3,000 euros. The first trip was taken on October 7, 1915, by then mayor of Bilbo Benito Marco Gardoqui.
There are a number of sites at the top of the mountain. One of the first is a big metal gear that is from the original funicular. Another is a giant footprint that commemorates the soldiers that fought against the fascists in the Spanish Civil War. Nearby is the hermitage of San Roque with panoramic views of the surrounding valleys. San Roque is the destination of a pilgrimage every August 16. In older times, pilgrims would come to ask for protection for their crops against draught and storms. There is also the large red sign that repeats Bilbo/Bilbao with an amazing view of the city as a backdrop.
The mount is also lined with trenches from the Spanish Civil War. It served as part of the Iron Ring, a vast network of tunnels and trenches that were built to protect the city during the war. Today, archeologists are excavating these trenches and tunnels.
Artxanda is also famous for txakolin. The first txakolindegiak, the first places to serve txakolin at least commercially, were in Artxanda. One place in particular, El Txakoli, began as a small shelter for shepherds and mountaineers in 1897.
Primary sources: Artxandako Funikularra; Artxanda: el histórico vigía de Bilbo, Naiz; Auñamendi Entziklopedia. ARTXANDA. Auñamendi Encyclopedia. Available at: https://aunamendi.eusko-ikaskuntza.eus/en/artxanda/ar-22626/