Nor Naiz, Gu Gara (Who I Am, We Are) is a series aiming to explore the meaning of Basque Identity around the world, both within Euskal Herria as well as in the diaspora.  For an introduction to the series, look here.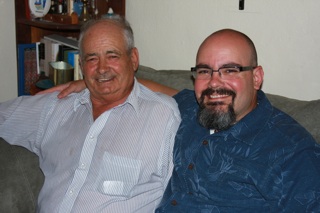 I am an American, born and raised.  And I'm extremely proud of that fact.  My boyhood hero was Thomas Jefferson and I think that the collection of men that founded the United States was one of the greatest ever assembled.  Growing up in the US, I had an immediate connection to these men, and the others that helped form the US through the history classes I took and the books I read.  However, my connection to these men is a result of no more a coincidence than I was born in the nation they helped found.
My dad isn't an American.  A Basque immigrant who came to the US to herd sheep, looking for opportunity, he grew up in Franco Spain.  And my grandfather, while born in the US, was the son of two Basque immigrants.  Their histories are not that of the founding fathers, the American Revolution, and the Civil War.  Rather, their's is of the Carlist Wars, the Spanish Civil War, and the repression of Basque culture; of whalers daring the high seas and an origin lost to history.
It is this reason that I personally identify so strongly as not just American, but Basque-American.  It is an avenue by which I connect to the history and experience of my ancestors, of the people who came before me, but didn't have the same national narrative.  It gives me some idea, as basic as it might be, of the person my father is, of the boy he was.
And it has gone beyond that as I have delved into the Basque culture.  My dad's Basque Country was a very different place than the Basque Country of today.  But that connection to the old Basque Country, through my dad, gives me a connection as well to the modern Basque Country, with its punk rock and kalimotxos and Guggenheim museum.  The initial bond through my dad has grown into my own identification, though remote, with the Basque Country as a place that, in some sense, I connect with, that is a sort of home for me.  It is the place of my ancestors, but it is also a place they would be hard pressed to recognize and it is therefore a place also uniquely mine.
Blas Uberuaga
Blas is the son and great-grandson of Basque immigrants to the American West, Basques who left their home in search of better opportunities.  He spent one year in Donosti attempting, with only limited success, to learn Euskara.  He is the creator of Buber's Basque Page.