I first met my uncle Martin, my dad's brother, during my first trip to Euskadi, back in 1991. At the time, he and his wife, Rosario, ran the Herriko Taberna in my dad's home town, Munitibar. Rosario got up early in the morning, around 5am or so, to clean the restaurant and bar and begin the daily cooking. Martin would get up later, but he was the one who closed the bar, often up until 2am or later. All of this while raising a special needs child. I was amazed at their work ethic. I spent many hours just sitting in the bar as patrons came and went, absorbing what I could as Martin poured drink after drink and sold treats to the kids that could barely reach the bar to give their pesetas to him.
Martin was also in charge of doing much of the shopping and would often make runs to Gernika to buy supplies. I joined him a few times and every where he went, people knew him. He would take me on the rounds of the bars after we got done shopping, saying hello to what seemed to be half of the town.
Martin had been the scholarly one of the family. He had trained to be a priest in Onati but, right before being ordained as a priest, he decided it wasn't for him. My dad told a story about when they were young and their mom was trying to provide them with more opportunities for education. Some nuns came to the basseria to take the kids to school, and while they could entice Martin to go with them (my dad said all it took was a few sweets) my dad instead hid until they left.
The one thing that stands out in my mind about Martin is his generosity. The last time I saw him was when my wife and daughter joined me in Spain. Martin took us to several local beaches where my daughter absolutely loved searching for seashells to take back home to her grandma and amuma. When we were done and getting ready to head back to his sister's place, Martin insisted we stop in Gernika for one quick paseo. At every stop, he got us something to eat, even though we were about to have one of those massive Basque dinners in just a few hours. He ordered immense plates of jamon, which I gorged myself on, just because.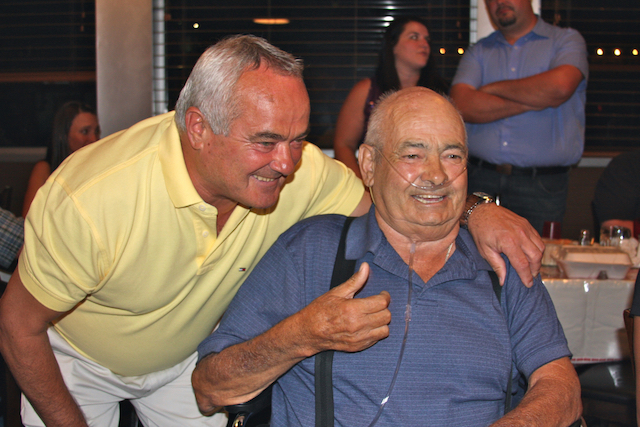 Martin was also a stubborn man, a seemingly common trait of the Uberuagas. My brothers and I would argue all the time when we were kids, and my dad was always telling us to stop it. Being the only one in his family in the United States, I'd never seen him interact with his siblings. However, when Martin came to visit us, we saw the sparks fly. They would argue about everything! They even argued about what side of the car the steering wheel was in the postal worker trucks. Martin insisted that there was simply no way they could be on the right side of the car, even though my dad told him he had seen them. They argued endlessly about things like this, much like me and my brothers.
Maybe the most telling story about Martin comes from my second visit to Euskadi. I was staying with him and his family that time, and they let me borrow their little old car to drive around the country. On the very last day of my stay, his son, Ander, and I went to visit some family and, on the way I got too close to a retaining wall and damn near ripped the passenger door off the car. We got back to Munitibar and told Martin what had happened. I expected the fury of hell. However, he essentially dismissed it, shoved me into my aunt's car, who was taking me to the airport, and saw me on my way. I can't imagine that dealing with that car was a trivial matter, but he made it clear that I shouldn't worry. Rosario always told me that it finally gave her an excuse to upgrade that car.
Martin always seemed content with his life, but at the same time, always tried to expand his horizons. After he retired from the bar, he started learning how to play the accordion and he started playing the piano again after many years of neglect. He was always trying new things, except that time we took him to a Japanese restaurant in Reno and he simply couldn't understand how anyone could eat dinner without bread.
Martin, my dad's second oldest brother (my dad was the oldest), passed away last week. The Basque Country won't be quite so inviting as it always had been before. For me, it will be just a little less full of life, a little less like home.
Goian bego, Martin.