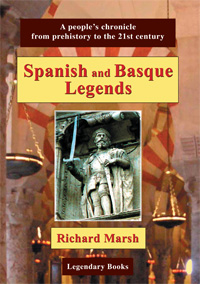 Richard Marsh's imprint, Legendary Books, has just released it's newest title, Spanish and Basque Legends.  Focused mostly on Spanish legends, including El Cid, Fernán González, and The Seven Princes of Lara, it also includes a number of Basque tales. All told, 76 stories are featured, including The Jaun Zuria Cycle:
Jaun Zuria – The Golden-haired Lord
The Death of Lekobide
The Death of Munso López
The Goat-foot Lady
For more information, including how to purchase the book, check out Richard's website.