(I couldn't resist the pun.)
Some big news for the Basque Country's biggest cities.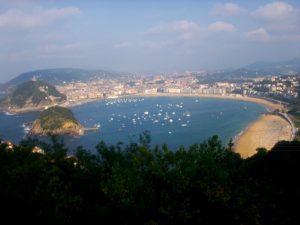 First, Donostia has been chosen, along with Wroclaw, Poland, as one of the two European Capitals of Culture in 2016.  EiTB has the news here. This means that for the year of 2016, Donostia will host events that highlight Europe's cultural heritage, presumably from a Basque perspective. Each year, two cities are chosen from two candidate countries, so Donostia beat out other Spanish cities, including Burgos and Cordoba.
Not to be outdone, Bilbao became the first city ever to be chosen as Lee Kuan Yew World City Prize, otherwise dubbed the Nobel prize for cities (this was announced in May… guess I've been a bit out-of-touch).  Again, EiTB has the news. Bilbao was chosen, at least in part, for its efforts to regenerate and renew the city from its industrial past.  Specifically, from the Prize's website, "Bilbao has shown that strong leadership and a commitment to a systematic and long-term plan, based on solid processes and supporting infrastructure, are key factors to the success of a city's transformation."
Here is a video highlighting Bilbao.

I first visited Donostia in 1991, when I began a year (well, closer to 10 month) studies abroad in the Gipuzkoan capital.  While it seemingly rained the entire first 6 months I was there, I still fell in love with the city, the life style of the Basques, and the Basque people.  I spent more than my share of evenings in the Parte Vieja and walked along La Concha to class, which has to be one of the best strolls in the world.  I returned some years later with my wife and was amazed at how much had changed.  Near the Cathedral, they had expanded the pedestrian-only zone and filled it with outdoor cafes.  They had also built the cube, which I understand is a bit of a controversy for such an elegant city.  But, they also cleaned up Gros beach, which when I was there was only used by the surfers.  Donostia keeps getting more beautiful with time.
During that first visit to the Basque Country, while I spent a lot of time in Bizkaia visiting family, I only made it to Bilbao once or twice, and that was centered on El Corte Ingles more than anything to do some shopping.  It wasn't until a few years later, visiting a friend who took me to the Running of the Bulls, that I got to know the city a bit more.  Bilbao is certainly transforming itself, cleaning up the river, building signature architecture, and positioning itself as a true equal of Donostia in terms of a wonderful city to visit.  The Siete Calles in the Casco Viejo is simply a great place to wander, to explore the twists and turns, discovering new shops and bars.
I certainly look forward to seeing what these two awards will do for these two cities.  And I look forward to many more days of exploring two of the most interesting cities I've had the pleasure of seeing, though I might have some small bias.