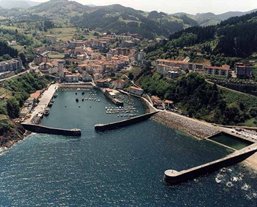 A very interesting development from the Basque Country.  With all of the concerns related to climate change and dependence on foreign oil, people are looking for new ways to extract energy from where ever possible.  The Basque Country is known for its waves — just ask any surfing aficionado.  And while not as famous as nearby Mundaka for surfing, Mutriku is still valued for its waves.
Thus, it makes perfect sense to try to harness those waves for power.  Hence, the world's first multi-turbine breakwater wave power station has been built in the port of Mutriku.  This power station can generate 300 kilowatts of power, about enough to power 250 homes.  It just went online yesterday.
Some information about this initiative to harness power from the tides is here along with a news release about the station. And here is a video about the station.
While the US argues and bickers about the future of green technologies, it is nice to see other places pushing forward.  I realize Spain has huge economic problems, but this seems to me a step in the right direction.