January 20. The day that the entire populace of the city of Donostia-San Sebastian stop what they are doing and have a massive street party that lasts until dawn. Donostia, the most beautiful city that I've had the fortune and pleasure to visit. January 20, the day that the city of Donostia stops and celebrates my birthday.
Ok, maybe that's not quite right. Oh, it is true that the city celebrates the entire night, with roving bands dressed as chefs and others drumming, wielding larger-than-life spoons and forks. It's probably where I did my first gaupasa, though it's hard to be sure — gaupasak are often a little fuzzy. But I do remember that the Parte Vieja was probably one of the most exciting places during one of the most exciting events I've ever been to.
But, it is a bit of an exaggeration to say that, every year on January 20, Donostia celebrates my birthday.
Rather, January 20 is the feast day of San Sebastian, the obvious patron saint of, er, San Sebastian. La Tamborrada (Danborrada in Euskara) has its origins in locals mocking foreign soldiers in the city, marching around the city banging on things like drums (according to the ever reliable Wikipedia).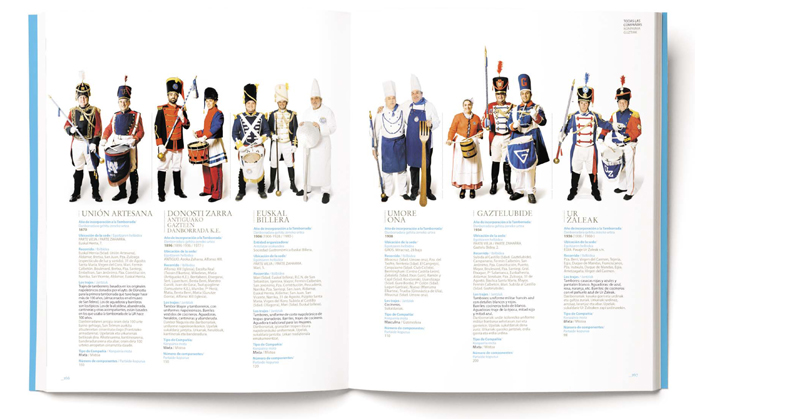 Just in time for those of you longing to experience La Tamborrada from far away, or wanting to reminisce past gaupasak in the Parte Vieja, or just interested in the history of this glorious event, a book has just been released honoring and celebrating this fiesta. Tamborrada-Danborrada, by Mikel G. Gurpegui and Javier Mª Sada, delves into the history of La Tamborrada, including describing all of the companies that wander the streets throughout the night. For those of us who can't actually join in the festivities, this is a suitable substitute.
Whatever excuse all of those people have for celebrating the entire night of January 20, I hope that a few of them raise a glass in honor of my birthday 😉