Here are a couple of links to online Basque artists, both of which specialize in traditional art. If you are looking for something special for that old friend you're going to see at Jaialdi, these might be the places to start.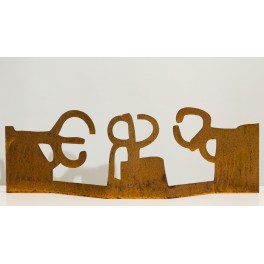 Irrintzi specializes in wood, clay and steel, with items that highlight the Guggenheim Museum and the Basque history of boating. They also have some panoramic photos of various scenic views from the Basque Country, including in Bilbao and Donostia, where they also have stores for those that prefer a more tactile experience.
Ixiart has even more traditional items, such as the wound candles (Argizaiola) that are common especially in Gipuzkoa and are used especially on All Saints Day. They also carry some interesting novelty items, such as stylized wood carvings of scenes from Picasso's Guernica and a series of wooden spoons.