Anyone who has visited the Basque Country knows how important cheese is to the cuisine of the Basques. Idiazabal might be the most famous, but cheese is everywhere in Euskadi. Meals often end with a plate of cheese and membrillo.
Basque cheese was central to more than one of my visits to the Basque Country. During my first stay, in 1991, I visited my dad's aunt, who lived outside of Munitibar. Her caserio was at the end of the road that wound up the side of the mountain. It was an old caserio, with the barn still occupied by animals. On the kitchen table was the biggest wheel of cheese I'd ever seen. My dad's aunt and her family raised sheep for their milk and made their own homemade cheese. It had been many years since she had seen my dad and she insisted I take two small wheels of cheese back to the United States for my dad. How was I supposed to make it through customs with homemade cheese? The smell alone would give me away, but, more importantly, this was cheese made on a farm, with no controls. There was no way… Suffice it to say, I did get those blocks of cheese to my dad. How is a story for another day.
Years later, I was visiting the Basque Country with my whole family, the first time for my mom, my brothers, and my wife-to-be. My dad took us all to that same baserria and again there was a huge wheel of cheese sitting on the same table. While we were all sitting at the table, doing our best to be patient as my dad and his aunt traded stories in Basque, my future wife looked out the window and saw the herd of sheep, my dad's cousin milking them. My future wife jumped at the chance to take her turn at the sheep, doing her part in making the next wheel of cheese.
My mom's grandfather, Blas (who I'm named after), was from Mutiloa, Gipuzkoa, in the heart of the Goierri, the region where Idiazabal, so famous for that cheese, lies. I first went there with my friend Joseba Etxarri (director of the euskalkultura site), who found where my mom's grandfather's baserria was. As we tried to find the exact place, we stopped at a few houses and Joseba asked in Euskara if anyone knew where the Telleria caserio was. Of course they did, and they pointed us in the right direction, but every house seemed to have a master cheese maker and we had our share of wonderful cheese on the way to rediscovering my great-grandfather's birth house.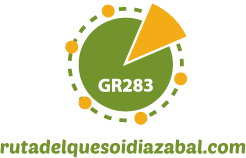 All of this leads to the most awesome new vacation idea. In that same Goierri region, including Idiazabal, a number of cheese makers in a variety of towns have established what I can only imagine is a unique trail. The "Idiazabal Cheese Route", or Idiazabal Gaztaren Ibilbidea, is a 6 stage walk of about 100 kilometers through the Goierri. Along each stage, there is ample opportunity to taste some of the best cheese the Basque Country has to offer, along with sagardoa (hard cider) and the most amazing natural vistas. Paul Richardson of the Financial Times shares his experiences along the trail. It seems like a most amazing vacation idea, one I'll have to try some day.