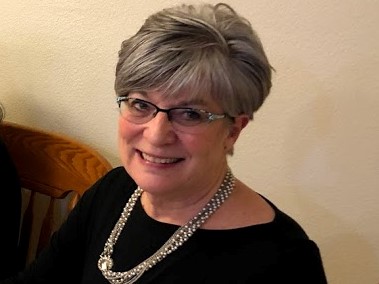 To those with any connection to the Basque community in Idaho, Gloria Lejardi is a household name. Having been a driving force behind youth dancing in the Treasure Valley of Idaho for so long, she has made her mark on so many young Basques in the area. Her dance classes are often the first foray into Basque culture for many kids, many of whom parlayed that experience into a deep and lasting appreciation and fascination with the culture. In this interview, Gloria describes her experiences as a dancer and a dance teacher, the origin of her passion for dance and music, and her dream trip to the Basque Country with her grandchildren.
I was born in Burns, Oregon, to Margarita Osa and Henry Garatea, first generation Basques.  Many of my childhood memories are centered around boarding houses and of course family gatherings.  My amuma, Margarita Osa (Aremayo), was my first Basque dance teacher.  She loved all music and dance and was happiest when a celebration included dancing. We moved to Boise when I started the 7th grade and this is when I began dancing with the Boise Euzkaldunak children's group.  From there I went on to dance with the Oinkari Basque Dancers for 15 years. In 1980 I started my dance group, originally called the Caldwell Basque Dancers and now called Herribatza Dantzariak.  I am grateful for all those who taught me about Basque dance through the years.

In regards to Euskara, I started taking classes from Miren Artiach (Rementeria) when I was a senior in high school and studied with her for a few years.  Attending a summer program in 1972, sponsored by the University of Nevada, Reno, was my first experience in the Basque Country. Then in 1974-75 I went to study in Onati with the first Boise State sponsored program. Jon Onatibia was our Euskara teacher and I still refer to his books while teaching my class.
Buber's Basque Page: Gloria, you are the grandchild of Basque immigrants. How did growing up in a Basque family and in the Basque culture impact your childhood? Did you feel different from the other kids?
Gloria Lejardi: My maternal and paternal grandparents were immigrants; my parents were born in the US. I seemed to always know as a child that being Basque was different but I do not ever remember it being anything other than special. Although I did not learn Euskara until later, we all knew Basque words and phrases. Some words I did not even realize were actually Basque. For example, I remember in elementary school during lunch the girl next to me said her food was too hot so I told her to "putz" on it. She, of course, did not understand so I blew on her food to show her. All of our friends called our grandmothers "amuma" and it just seemed to be a natural thing to do. The Basque Boarding House was part of my upbringing. When I was a child my paternal grandmother, Lucy Garatea (Luciana Aboitiz) owned the Plaza boarding house in Burns, Oregon. Many Sundays and holidays were spent there among the boarders. An interesting fact is that my maternal grandparents (Marcelino and Margarita (Aremayo) Osa actually built this boarding house and my mother and her siblings lived there until my mother was in high school. There were many Basque families in our town so the language, the card games, the music, and the food were a natural state of being for me.
BBP: When was your first trip to the Basque Country? Where did you go? What did you think?
Gloria Lejardi: My first trip was during the summer of 1972. I attended a 6-week course through the University of Nevada, Reno, where we stayed 3 weeks in Ustaritz in Iparralde and 3 weeks at Arantzazu in Gipuzkoa. We studied Euskara with Jon Onatibia and went on many excursions to experience as much as we could in those 6 weeks. After the course, I visited relatives for another 4 weeks. My first impressions were how green everything was compared to the high desert areas that I was used to, and the smell of diesel. When I visited relatives in Ondarroa, Lekeitio, and Elantxobe it was the smell of the ocean that was so noticeable. Of course the food was another experience. As a child I refused to try many of my grandmothers' specialties but while in the Basque Country, I knew better than to refuse, so I learned to eat and love gambak, txipiroiak, mina, and more.
BBP: You clearly have a passion for the Basque culture that you've channeled over many years through dance. How do you see the role of dance in keeping the culture alive?
Gloria Lejardi: My amuma Margarita Osa loved all music and all types of dancing and she was our first dance teacher. My clearest memories are dancing the Jota and Porrusalda at church events, accompanied by the piano and amuma stage left playing the spoons to keep us in beat. I think a few times she made us repeat our performance if we didn't dance well enough! She was a task master for sure, the Ondarrutarra that she was should explain it all!
Music and dance through the centuries tell a story about the times. The traditional dress of the time, the instruments, the intricate steps, or the adaptations of foreign dances are all a part of the Basque culture. Just like passing on our beloved Euskara keeps it alive, the passing down of these dances is another way to keep the Basque culture alive. Of course this goes for traditional sports, gastronomy, bertsolaritza, etc.
BBP: What are your proudest or most memorable moments that you've had dancing, both as a dancer yourself and as a teacher?
Gloria Lejardi: During the 15 years that I was an Oinkari Basque Dancer I was able to travel to a number of different Basque festivals or dances and, of course, this led to a familiarity with the people and these different communities, which in turn led to friendships. The most memorable trip for me was our trip to Montreal. At that time, I had never been out of the country, so this was an eye opener. Montreal is a beautiful city and another first was riding the subway to our performance location. The first day carrying the Ikurina and bags of equipment was quite the site for the other passengers. Most of us had never been to a big city so we probably looked like a bunch of dumb tourists, oh well…..
BBP: It seems that dance is, in many ways, a bigger element of cultural identity for Basques in the diaspora than in the Basque Country itself. How do you see the differing ways culture and identity are expressed in the diaspora versus in the home country?
Gloria Lejardi: I think this is because it is much more acceptable for immigrants to showcase their music and dance to the local people than anything else and then comes the sharing of the food. Dancing is the most fun and enticing element of the culture to teach the children and grandchildren of immigrants. For some, dancing is the only Basque thing they will learn but for me it was just the first step. Participating in dance led to my desire to learn Euskara and I know this has happened for many others.
BBP: Homedale has an amazingly vibrant Basque community and, for such a small group, has accomplished some amazing things, including the building of their Basque center the Txoko Ona. How has Homedale accomplished so much where others have struggled?
Gloria Lejardi: I think it was the vision and hard work of many people but if I try to name them all I would surely miss someone. Some people gave money, others donated hours of work and the building came together under the leadership of the building committee. There is always work to do, a class to teach, an event to volunteer for or Txoko Ona would not continue to exist.
BBP: The nature of the Basque community in the United States is evolving. We don't have the influx of Basques coming to work, the same motivations that brought your grandparents and my dad. How do you see the future of the Basque diaspora in the United States? How do we compensate for the diminished ties directly to the Basque Country?
Gloria Lejardi: I believe that the way we compensate for the loss of the immigrant generation and what they have given us is to cross the ocean in the other direction. For so many immigrants the trip here was permanent because travel was so difficult and expensive. For others, they occasionally made trips back to the Basque Country but the influx of immigrants was waning. The opportunity to study in the Basque Country opened up in the 70's and continues today. Young American Basques are continuing to attend language schools (barnetegis) to learn Euskara and immerse themselves in the day to day culture. Also the visits of musical or dance groups, Ikastola teachers, and occasionally visiting professors continue to enrich our cultural lives here in the US. I have always taught my dancers how to count in Euskara and maybe a few other words but in the last ten years I have enlarged the vocabulary to include directions, colors, family members, and a few phrases. Hopefully dance and a little language will encourage them to continue to learn about their Basque culture.
BBP: You are a mother and now a grandmother (zorionak!). How do you pass the Basque culture onto your daughters and grandchildren? What do you hope their connection to the Basque culture and the Basque Country will be?
Gloria Lejardi: We spoke to our daughters in Euskara as much as we could when they were growing up but they say they only speak "baby Basque." Their children know words and phrases only, but hopefully, like me, they will want to learn Euskara and perhaps study in the Basque Country. Of course our daughters were part of my dance group and continued on dancing with the Oinkaris for many years. Currently two of our grandchildren are dancing in my group. When it comes to the food, I have tried to learn to cook like my grandmothers did; low and slow starting with olive oil, onions, and garlic. Our daughters are very good cooks and are always willing to try something new. One family tradition we started when our girls were young was "chorizo making" and 25 years later our grandchildren and extended family are ready to go when the time comes. My dream is to be able to travel to the Basque Country with our grandchildren. The Basque Country has to be experienced with all the senses; the smell of the ocean or fresh mountain air; the sound of the music or Euskera spoken by children; the taste of the food or of txakoli; the view from a mountain top or of waves crashing to shore; and finally the feeling, coming to the surface, of what it means to be an Euskalduna.
BBP: Your ideal trip to the Basque Country would be with your grandchildren. Where would you go? If you were planning your ideal route through Euskalherria, what would it look like? Where would you stop, what foods would you have to share, who would you have to see for it to be the ideal trip?
Gloria Lejardi: Ideally we would pick one town for a home base and visit all of our relatives from there.
I find you can feel the sense of the community if you sleep, shop, eat, and drink in one town for the majority of your visit. You become familiar with the streets; the shop owners get to know you; the coffee barista understands your Euskara even though you speak it with an accent (me, not my husband; he speaks like an Erenotarra). I would first take them to see where their great and great-great grandparents were born; Ibarengelua/Elantxobe; Ondarroa; Nabarniz; Lekeitio; Gabika; and Ereno. Of course we would explore Gernika with all its history and the Monday market. The Peace Museum is also a must see. Into Gipuzkoa I would show them Onati, where I went to school, Arantzazu, and also the beautiful town of Tolosa. Besides enjoying the beaches, a hike up the trail to San Miguel above Ereno with a picnic lunch would be ideal. The view from there is breathtaking! My go-to choice of food in the Basque Country is fresh fish, particularly Lebatza, or Hake in English. No trip there would be complete without pintxos; daily of course! I would like our grandchildren to explore this array of wonders, watch their faces as they take the first bite, and see what they like the best.
BBP: What advice would you have for the next generation that wants to connect to their Basque roots but isn't quite sure how?
Gloria Lejardi: I would tell them to start with what they do know. Do you know your immigrant family history or only know a name? With the genealogy sites readily available it is not difficult to research family names and birthplaces. Researching Basque history is another good way to connect to your culture; there are so many good sites where one can learn about the history of Basques in the world. If you know of family in the Basque Country then connecting with them is the first step. Planning a trip to visit the birthplaces of ancestors and exploring the area is another step to take. Be open and curious to whatever experiences come your way.