As compared to its neighbors, the Basque language was standardized only recently, in the 1970s. The challenges in standardizing the language so that all Basque speakers could communicate with one another was expressed by Joanes Leizarraga, one of the first to attempt the task. One of the first to refer to the Basque Country in print as heuscal herria, he said "everyone knows how the manner of speaking almost changes from one house to the next in the Basque Country." While it took centuries more for Basque to be standardized, Leizarraga's translation of the New Testament was a critical first step along that path.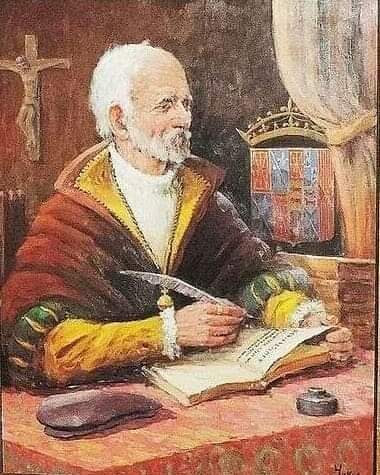 Born in Beskoitze, Lapurdi, sometime around 1506, not much more is known about Joanes Leizarraga's origins. While he was baptized Catholic, in 1559 he embraced Protestantism, specifically Calvinism, and was imprisoned for his beliefs.
This was about the same time that Queen Joana de Albret of Nafarroa also converted to Calvinism. She recognized the need to spread the word about Calvinism in Euskara and commissioned Leizarraga for this task, as he was a well known Basque scholar (Basque shepherds of the area are known to have sent their children to him to learn Basque). In March of 1563, at the synod of Pau, he was tasked with translating the New Testament to Basque. He finished this first translation of the Bible into Basque in 2 or 3 years. His translation, officially entitled Iesus Christ Gure Iaunaren Testamentu Berria (The New Testament of Jesus Christ our Lord), was published in 1571.
After that, there is little known about his life. He simply disappears from the historical record. In 1581, he met with French politician and historian Jacobo Augusto de Thou, and he participated in Protestant meetings in 1577 and 1579, but not in those held in the 1590s. Historians surmise he must have died around the year 1600, which would have put him in his mid-nineties.
In addition to his translation of the New Testament, Leizarraga also published two other works in 1571, his Kalendrera (Calendar) and ABC, edo Christinoen Instructionea (ABC, or the instruction of the Christians). The first is a religious calendar, intended to help believers organize their religious life. ABC is a small instructional booklet meant for children and young people that contains chapters on grammar, math, and Christian doctrine. It seems inspired by a similar book, a Calvinist ABC, that was published in Lyon in 1555.
The Queen that had commissioned his translation died in 1572, and while it was published in 1571, it wasn't distributed until 1574. Thus, the Queen may not have seen the translation reach her subjects. Shortly after her death, her son, King Henry III of Navarre (Henry IV of France), reinstated Catholicism. Protestantism was outlawed and Leizarraga's works were essentially discarded and abandoned.
It wasn't until the 19th century that his work was reprinted, and this was motivated more by linguistic interests than anything else. Linguists and historians have examined his word choice and the difficulty of his task, of choosing words that wouldn't automatically alienate some of his readers. He also Latinized his language significantly, perhaps in a need to adhere to the original as much as he could and to make the language as accessible as possible.
Primary sources: Zuloaga San Román, Eneko. Leizarraga, Joanes. Enciclopedia Auñamendi; Available at https://aunamendi.eusko-ikaskuntza.eus/es/leizarraga-joanes/ar-80231/; Joanes Leizarraga, Wikipedia