One of the distinguishing features of Basque culture in the US West are the Basque restaurants. Often serving family-style meals, with long tables and large plates and bowls of food, they are the cornerstone of Basque-American identity. The Wool Growers, in Bakersfield, California, is one of these wonderful dining spots, a place for Basques and non-Basques to gather and share in Basque food and culture. Its founder, Mayie Maitia, died on December 15, 2021 at the age of 92. Goian bego.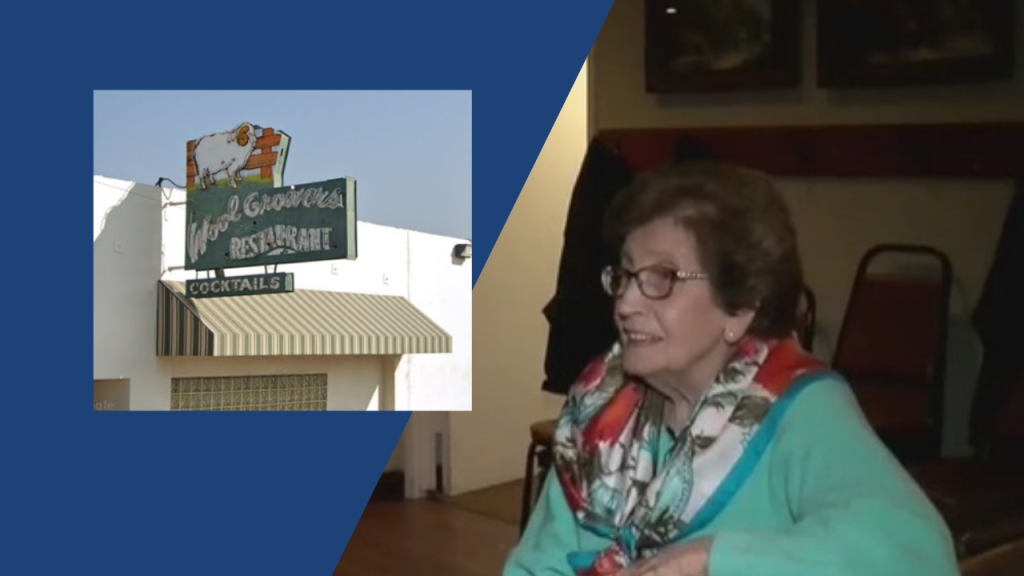 Mayie was born on May 8, 1929 in Saint Étienne de Baïgorry, in Nafarroa Beherea, Iparralde, to Jean and Marie Etchebarne. She was the seventh of nine children. With some of her siblings, she immigrated to the United States when she was 17, working first as a nanny for the Amestoy family and then at the Noriega and Pyrenees restaurants. Her father had been to the United States; his stories instilled within her the promise of the American Dream.
It was during this time that she met Jean Baptiste Maitia, a bartender, and they married in 1947. After their two children, Jenny and Daniel, were born, they opened their own restaurant in 1954, the Wool Growers, in Bakersfield. She was only 25 years old when she and her husband opened the Wool Growers, armed only with their determination and a $15,000 loan.
The Wool Growers became a cornerstone of the community and beyond. It served many local Basques and celebrities, including Barbra Streisand and Ronald Reagan. Mayie became the "mother of the Basques," helping the recent immigrants who, like her, had no knowledge of English navigate life and bureaucracy in the strange land. And the Wool Growers became a spot where people congregated, where many relationships started and even a few weddings were hosted. Back in 2019, Mayie received NABO's "Bizi Emankorra" (Lifetime Contribution) award, which recognized her "thoughtfulness, generosity, and unconditional support of her Basque culture."

More important to Mayie than any of her success was her

family

. She once said "If you don't have family, you have nothing." Though Mayie has passed on, the Wool Growers continues to serve the Basque community in Bakersfield through the efforts of her daughter Jenny and her grand daughter Christiane.
Primary sources: Mayie Maitia obituary, Doughty Calhoun O'Meara Funeral Home; Culinary extraordinaire and Basque matriarch Mayie Maitia dies at 92, The Bakersfield Californian; Wool Growers; Mayie Maitia obituary, Legacy.com