My dad, Pedro Uberuaga Zabala, was from Munitibar, Bizkaia. Or better said, Gerrikaitz. At least, he always referred to his home as Gerrikaitz, not Munitibar. This confused me when I went to visit for the first time because the signs for the town say Munitibar. It turns out that this little town, home to less than 400 people but outsized as a source of Basque emigration to the United States, has a complicated history with two different villages that often fought and competed until they decided to merge into one. On a different note, I was also always amazed how this small town could host, at the time, three different bars. How different the Basque Country was from my own hometown…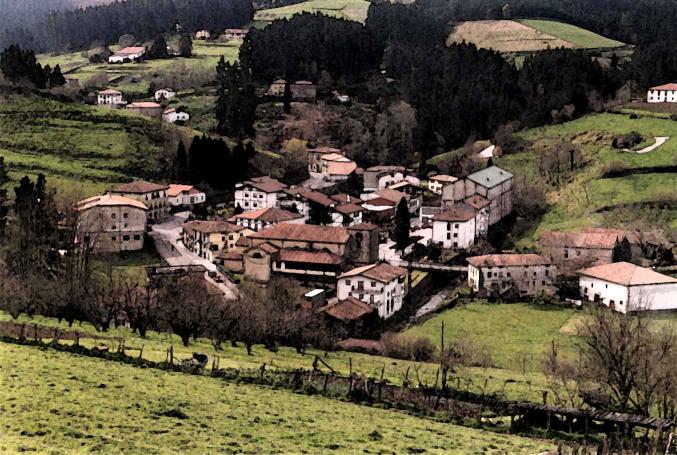 Munitibar-Arbatzegi-Gerrikaitz only took on its current name in 1986. Before that, it was known as Arbacegui-Guerricáiz, and even before that, Arbatzegi and Gerrikaitz were separate parishes. Gerrikaitz was founded in 1366 by Count Tello, though it was called Monditibar back then. Arbatzegi and Gerrikaitz merged in 1883 to form the municipality of Munitibar, partially because both were overwhelmed with war debt and they decided to join together to survive. The two parts are separated by the Lea river. Today, Munitibar encompasses the neighborhoods of Arbatzegi, Berreño, Gerrika, Gerrikaitz, and Totorika.
Way back in 1402, an agreement was struck between the mayors of Gerrikaitz and the "good men" of Arbatzegi and of Bolibar, to avoid discord and agree on mutual defense. Part of the agreement regarded the sale of timber from the mountains for use as charcoal in the ironworks, which the laborers of Arbatzegi were allowed to help decide. This pulled Arbatzegi into the village of Gerrikaitz. However, in 1630, the residents of Arbatzegi petitioned to split off again into their own town, a request that was granted by King Felipe IV.
The population of the small village has declined sharply in recent years. While from 1900 to 1950, it held relatively constant at just over 1,000 people, by 2000 there weren't 400 people living in Munitibar.
Munitibar sits at the crossroads between Amorebieta, Gernika-Lumo, Lekeitio, and Markina-Xemein, though the roads passing through Munitibar are curvy and narrow, often making for relatively slow travel between towns.
There isn't a whole lot of industry within Munitibar itself and most of the residents dedicate themselves to agriculture, timber, and livestock. Back in the 19th century, the town hosted two ironworks, nine mills, and a gypsum mine, but those have since closed up. Even earlier, Gerrikaitz alone had 30 forges dedicated to the manufacture of tools, nails, and ironwork, a dangerous industry that led to at least two fires that destroyed several homes and buildings. Today, there are several small carpentry shops, sawmills, and a factory for building materials.
During the Spanish Civil War, Gerrikaitz and Arbatzegi both fell to Franco's forces on April 28, 1937. They had been bombed and machine gunned the previous two days. George Steer, who told the world about the bombing of Gernika, took refuge in one of the craters created in Gerrikaitz.
The feast day of Arbatzegi is San Pedro (June 29) while that of Gerrikaitz is Andra Mari (September 8).
One of the routes of the Camino de Santiago passes through the town.
Primary sources: Arozamena Ayala, Ainhoa. GERRIKAITZ. Auñamendi Encyclopedia. Available at: https://aunamendi.eusko-ikaskuntza.eus/en/gerrikaitz/ar-75465/; Estornés Zubizarreta, Idoia. MUNITIBAR-ARBATZEGI-GERRIKAITZ. Auñamendi Encyclopedia. Available at: https://aunamendi.eusko-ikaskuntza.eus/en/munitibar-arbatzegi-gerrikaitz/ar-78718/; Munitibar, Wikipedia.