This article originally appeared in Basque and Spanish at Euskalkultura.eus on November 23, 2021.
In memory of Gorka Aulestia (1932-2021)
"Echoes of two wars, 1936-1945" aims to disseminate the stories of those Basques and Navarrese who participated in two of the warfare events that defined the future of much of the 20th century. With this blog, the intention of the Sancho de Beurko Association is to rescue from anonymity the thousands of people who constitute the backbone of the historical memory of the Basque and Navarre communities, on both sides of the Pyrenees, and their diasporas of emigrants and descendants, with a primary emphasis on the United States, during the period from 1936 to 1945.

THE AUTHORS
Guillermo Tabernilla is a researcher and founder of the Sancho de Beurko Association, a non-profit organization that studies the history of the Basques and Navarrese from both sides of the Pyrenees in the Spanish Civil War and in World War II. He is currently their secretary and community manager. He is also editor of the digital magazine Saibigain. Between 2008 and 2016 he directed the catalog of the "Iron Belt" for the Heritage Directorate of the Basque Government and is, together with Pedro J. Oiarzabal, principal investigator of the Fighting Basques Project, a memory project on the Basques and Navarrese in the Second World War in collaboration with the federation of Basque Organizations of North America.

Pedro J. Oiarzabal is a Doctor in Political Science-Basque Studies, granted by the University of Nevada, Reno (USA). For two decades, his work has focused on research and consulting on public policies (citizenship abroad and return), diasporas and new technologies, and social and historical memory (oral history, migration and exile), with special emphasis on the Basque case. He is the author of more than twenty publications. He has authored the blog "Basque Identity 2.0" by EITB and "Diaspora Bizia" by EuskalKultura.eus. On Twitter @Oiarzabal.

Josu M. Aguirregabiria is a researcher and founder of the Sancho de Beurko Association and is currently its president. A specialist in the Civil War in Álava, he is the author of several publications related to this topic, among which "La batalla de Villarreal de Álava" (2015) y "Seis días de guerra en el frente de Álava. Comienza la ofensiva de Mola" (2018) stand out.
Pete Cenarrusa passed away on September 29, 2013 at the age of 95 in Boise, Idaho. With him we lost possibly one of the last figures of his time to go down in history for his commitment to the Basque Country. The son of Bizkaian emigrants, Pete was a prominent Republican politician in the State of Idaho with an international profile like no other. He fought against both the Franco regime and advocated a peaceful resolution of the Basque conflict, based on the defense of human rights. Due to his involvement in Basque politics, he was demonized and ridiculed, even after his death, by the most extreme block of Spanish nationalism while, on the other hand, he was welcomed within Basque nationalism as one of their own.
Along with the brothers Paul and Robert Laxalt, Pete Cenarrusa was one of the most influential and well-known Basque-Americans in the United States, in the diaspora, and in Euskadi. In 1983 he was inducted into the "Basque Hall of Fame" of the Society for Basque Studies in America. In 2000, he was awarded the "Universal Basque" award by the Sabino Arana Foundation, and, in 2010, the Bizkaia Provincial Council bestowed upon him the "Illustrious Bizkaia" distinction.
Pete Thomas Cenarruza Gardoqui was born on December 16, 1917 in the small town of Carey in Blaine County, Idaho, the son of José María "Joe" Cenarruzabeitia (Cenarruza) Muguira and Ramona Gardoqui Bilbao. At the age of 17, in 1907, José, born in Arbatzegi in 1889, emigrated to the United States aboard the steamer Noordam. Other compatriots sailed along with him, including José Urberuaga, 20 years old and also a native of Arbatzegi; Domingo Arrizabalaga, 17, from Ereño; and Rosa Aldecoa, 24, from Navarniz, and her nephew José Iturri, who was only 4 years old, of Ispaster. Their final destination was Boise. They were all part of a Basque emigration trend that had begun decades earlier. Like the vast majority of Basque immigrants at that time, José began his working life in the sheep industry as a shepherd. In 1909 he was joined by his brother Pedro, born in 1891. Within a few years, with the money saved between the two, they were able to start their own sheep business in Wood River Valley, in the Carey area, settling in the city of Bellevue. José and Pedro were partners until 1935. In the midst of the Great Depression they separated, continuing their successful sheep-raising businesses until their respective retirements.
At the age of 23, Ramona Gardoqui Bilbao arrived in New York in 1914, her destination being the city of Shoshone, Idaho, a town where her cousin, Domingo Soloaga Arrasate, who had arrived in 1901, ran a Basque pension or boarding house. Ramona, born in Gernika in 1890, worked for Domingo as a cook until she met José during a stay at the pension. Shortly after they married, a union that produced five children: Nieves, Pete, Luis, Juanita, and Lucia.
Pete grew up in Bellevue, where he attended elementary and high school. Like many other children of Basque immigrants, Pete only spoke Basque when he first entered school. In 1936 he went to the University of Idaho, in Moscow, graduating in 1940 with a degree in agricultural science. During his time in college he competed with the varsity boxing team, being a member of the school's first National Collegiate Boxing Champion team. He would continue to compete as a boxer during his service in the Marine Corps during World War II [1]. The possibilities offered by the United States, together with the effort and sacrifice of the emigrant generation, made possible, to a large extent, the educational and socioeconomic advancement of the first generation of Basques born in the country. This was the case with Pete.
Upon graduation, Pete got a job teaching high school (agriculture and chemistry) and coaching football, basketball, and boxing at Cambridge, Idaho during the 1940-1941 school year and then at Carey during the 1941-1942 school year. His family had moved to Carey. Patrick Bieter tells us how "Pete had always wanted to fly, had taken an Army Air Corps test [in 1940], and was reflecting upon the Nazi wildfire now threatening to destroy all of Europe. He wondered if the responsible thing to do was to enlist and be ready when the inevitable war broke out […] Pearl Harbor ended his turmoil. Pete went to the neighboring town of Twin Falls to enlist in the Army Air Corps on a Sunday shortly after the bombing of Pearl Harbor. The army office was closed and would reopen on Monday—a teaching day for Pete; he would not be free. He was informed that the navy recruiter was in Twin Falls and that he was available on Sundays. Pete volunteered to be a naval aviator." [2]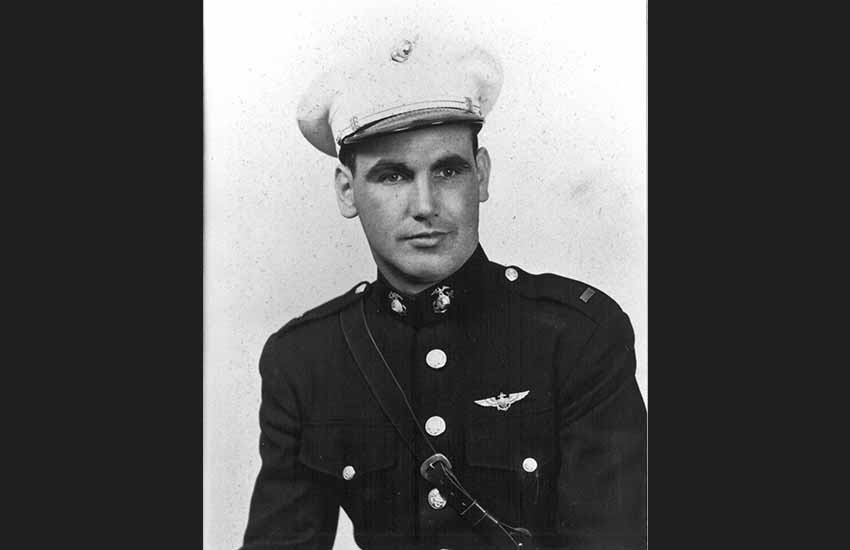 After entering the Naval Aviation Corps as a cadet in July 1942, Pete received basic and advanced aviation training at Marine Corps barracks in Seattle and Pasco, Washington, and later Corpus Christi, Texas, popularly known as the "University of the Air." There he received his pilot's wings and was commissioned as a second lieutenant on April 16, 1943, into the Marine Corps Reserve (Naval Aviation Cadet) with a naval aviator designation. In December 1943, Pete was promoted to first lieutenant. At Air University, Pete was a flight instructor for naval aviation cadets for 18 months until October, 1944, at which time he was transferred first to the Naval Auxiliary Air Station at Cuddihy, Florida, and then to Jacksonville to train fighter pilots to fly Corsair fighter jets.
After completing the required carrier landings in an F-4U Corsair, which he performed on the aircraft carrier USS Wolverine on Lake Michigan, Pete was sent to Marine Corps Air Station El Toro, near Irvine, California, with maritime service orders, being assigned to the 462nd Fighter Squadron (VMF-462) of the 4th Wing of the Marine Corps.
He was later sent to Cherry Point, North Carolina, to transition to the SB2C Helldiver dive bomber, joining the 932nd Scouting Squadron (VMSB-932) of 9th Marine Aircraft Wing, Marine Aircraft Group 34, in preparation for the invasion of Japan. However, the dropping of the atomic bombs brought about the end of the war and he never saw action. In October 1945, Pete was with the 934th Marine Scouting Bombardment Squadron, Marine Aircraft Group 93, at Bogue, Morehead City, North Carolina.
In January 1946 he was back at Cherry Point with the 932nd Squadron. Pete "then went into the inactive reserve [as captain of the Marine Corps reserve in the spring of 1946], where he flew with VMF 216 Squadron [Marine Fighting Squadron 216] in Spokane, Washington until his retirement in July 1963 with the rank of Major. Pete," continues Bieter, "followed as a private pilot who flew for 59 years without an accident. He logged over 15,000 hours of flight time, most of which were in the operation of his family business." [3] His passion for and pride of flying, like that of many young people of his generation, kept him going throughout his life.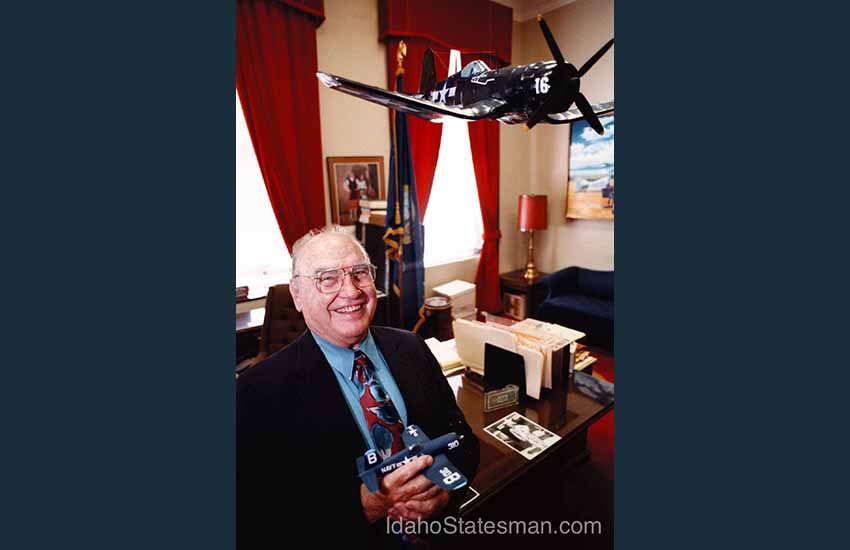 After the war, between 1948 and 1950, Pete worked for the Veterans Administration and for Idaho Vocational Education as an itinerant vocational agricultural teacher, teaching, on farms in rural Blaine County, military veterans who had returned from the war and needed classes in agriculture in southeastern Idaho. In his spare time, he gave flying lessons on a PT-26 aircraft, a war surplus plane he purchased after the war. One of his students, young Freda Coates, born in 1928 in Rupert, Idaho, to a sheep family, became his wife of 65 years. They had a son in 1948, whom they named Joe. He tragically passed away in a plane crash in 1997.
Between 1954 and 2000, Pete and Freda successfully ran their own sheep business with operations in Idaho, Nevada, Arizona, and California. In 1950 Pete entered politics, being elected a Representative of the Idaho House of Representatives. He served nine terms, three of which he was elected Speaker of the House. Beginning in 1967, he served as Idaho's Secretary of State, a run that lasted for nearly 36 years. He retired in 2003. Bieter reminds us that, upon his retirement, Pete "was the longest serving State official in the history of the State of Idaho." [4] He was replaced by his right-hand man, the Basque-American Benito "Ben" T. Ysursa, who held the position until 2015.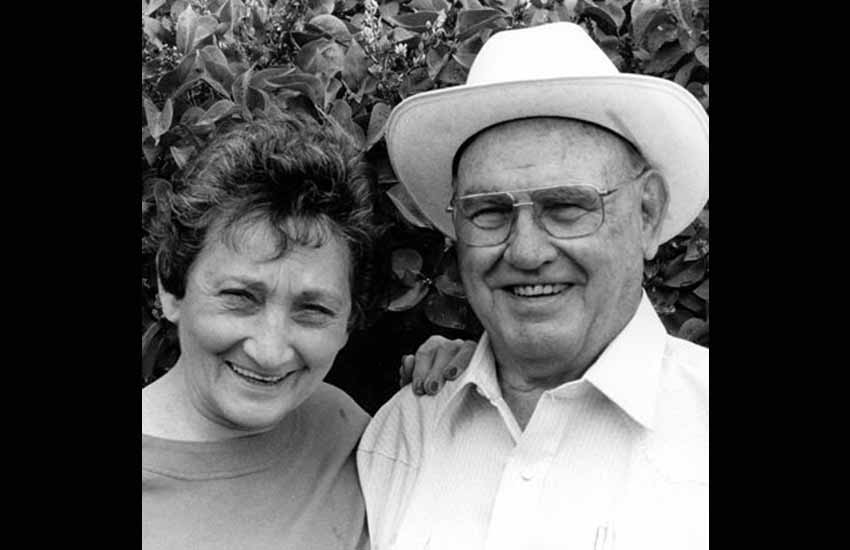 52 years ago, Pete began his own international political career by rallying political support in defense of 16 young Basques accused, among other crimes, of the murder of the policeman Melitón Manzanas and the civil guard José Pardines in 1968. The proceedings became known as the War Council of Burgos or the Burgos trials (December 3-9, 1970). His appeals led then-Governor Don Samuelson of Idaho to write Generalissimo Francisco Franco a letter of denunciation as well as a few hundred Boise Basques to send Franco a telegram rejecting the military trial. Shortly after, in 1971, Pete and his family visited the country of their ancestors for the first time. Pete would return shortly, in 1977. According to Bieter, upon his return to Idaho in 1971, Pete joined "Anaiak Danok," a group dedicated to raising money for "Anai Artean" of Iparralde, whose objective was to help families of ETA members.
Meanwhile, Pete's father passed away on October 27, 1972 in Hailey, Blaine County. Four months later, his mother also passed away. In 1972, Pete promoted the Idaho Joint Memorial No. 115, condemning Franco's dictatorship while urging peace and democracy in Euskadi. Thirty years later, Pete was one of the promoters of Idaho Joint Memorial No. 114, which supported the Basque People's right to self-determination, while calling for an end to ETA's violence, as well as that carried out by the Spanish government.
Pete became the perfect host for the first delegations of the newly reinstated Basque Government. In 1988, Lehendakari José Antonio Ardanza made his first tour of the Basque communities of the American West, including Idaho, where he was received by Pete and then-Governor of the State, Cecil Andrus. Paul Laxalt, a close friend of President Ronald Reagan, arranged a meeting between him and Ardanza at the White House, which Pete also attended. It was possibly one of the greatest milestones in Basque foreign policy to date.
In 1994, on the occasion of the inauguration of the Basque American Foundation (among other objectives), predecessor of the Delegation of the Basque Government in the USA, Lehendakari Ardanza made a second trip to North America. Pete and Governor Andrus accompanied him to Washington DC where the creation of the foundation became official. On this trip, the Lehendakari had the opportunity to meet with US Vice President Al Gore at the White House.
In 2003, Pete and Freda established the Cenarrusa Center for Basque Studies (today the Cenarrusa Foundation for Basque Culture). In 2009, Pete wrote his memoir with Quane Kenyon, Bizkaia to Boise: The Memoirs of Pete T. Cenarrusa, which he published on his 92nd birthday. Pete was a member of the Euzkaldunak Basque Center in Boise.
The Basque diaspora and the State of Idaho lost an important and irreplaceable advocate with Pete's death. He was buried with full military honors in Bellevue Cemetery where his parents and son are buried.
[1, 2, 3, 4] Bieter, Patrick J. (1999). "Pete Cenarrusa. Idaho's Champion of Basque Culture," in Richard Etulain and Jeronima Echeverria, Portraits of Basques in the New World. Reno: University of Nevada Press. Pp. 172-191.
Collaborate with 'Echoes of two wars, 1936-1945.'
If you want to collaborate with "Echoes of two wars" send us an original article on any aspect of WWII or the Civil War and Basque or Navarre participation to the following email: sanchobeurko@gmail.com
Articles selected for publication will receive a signed copy of "Combatientes Vascos en la Segunda Guerra Mundial."