Who knew the Basque Country had a pioneer in skateboarding? Not me! Sancheski, based in Irun, Gipuzkoa, made the first skateboard in all of Europe in 1966. Like Orbea, the company had to reimagine itself when times got hard and new opportunities arose. Starting off as a ski company back in the 1930s, they shifted to skateboards in the 1960s and became an iconic brand.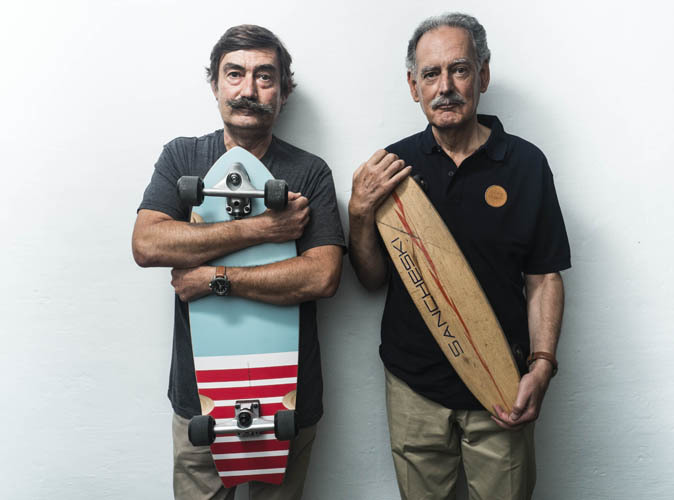 Sancheski started out as a company making outdoor sporting equipment, including skis (Sancheski=Sánchez, the founder of the company, + ski) back in 1934. The founder of the company, Francisco Sánchez Espinosa, was inspired by a group of visiting Norwegian engineers who brought the then novel sport of skiing Gipuzkoa, skiing on nearby Mount Aralar and even in the streets. Francisco saw an opportunity and opened his shop to cater to this new sport.

However, French and Austrian companies, subsidized by their governments, flooded the market, and Sancheski looked for a new direction. Taking inspiration from the west coast of the US, where skateboarding was beginning to take off, they adapted their equipment to start making skateboards, the first in 1966. The first commercial

skateboards

had only been made a few years earlier in 1959…

Skateboards were originally made so that surfers could get that same surfing experience out of the water, even on days when the water was calm. Thus, Sancheski took a slightly different route, going from skis to skateboards. However, as might be no surprise given the popularity of surfing in the Basque Country, they recently released a line of surfskates, skateboards meant to mimic, as much as possible, the feeling and motion of surfing on dry land.
Perhaps their most iconic skateboard is the Top Naranja. First made in the mid-1970s, this skateboard became extremely popular with children – it was the most sold skateboard in Spain in 1976 – and led to Sancheski becoming the official brand of Spanish skateboarding.
To help promote the new sport within Spain, the company set up a team to tour the country in the late 70s. Ricardo Damborenea, Iñaki Beloki, Pedro Aranzábal, Neme Rico, and Fernando Cortázar, among others, would head out in a 1967 Volkswagen bus and put on demonstrations at schools and city plazas to introduce the sport to a wider audience. They were also the testers of new boards produced by the company.
Until recently, the sons of Francisco, Javier Sánchez y José María Sánchez, kept the company going. José María's daughters, Iciar and Mónica, continue the family tradition with technical and graphic design and now Iciar leads the company into the future.
Primary sources: Sancheski; The Best Family Business: From Ski to Skate, DreamSea; Sancheski, la primera marca de monopatín de España, lanza una tabla que imita las sensaciones del surf, Expansión