Despite its relatively small size, the Basque Country seems to produce a disproportionate number of leaders and innovators. A prime example is the world of fashion, where two world-renowned designers – Cristóbal Balenciaga and Paco Rabanne – got their start. Rabanne, who's mother worked for Balenciaga, viewed himself as a disciple of the more senior designer. However, Rabanne pushed even further beyond the boundaries of fashion – a revolutionary who brought new materials to his designs.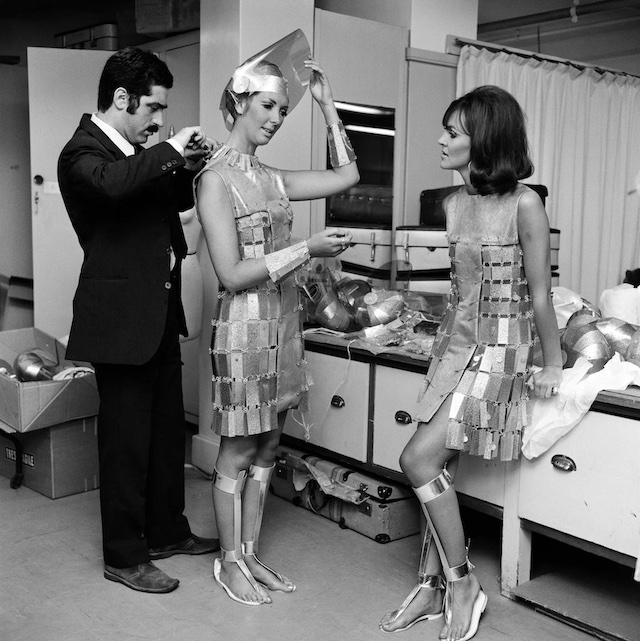 Paco Rabanne, as he was known professionally, was born Francisco Rabaneda Cuervo on February 18, 1934 in Pasaia, Gipuzkoa. Pasaia is a small town just outside of Donostia. Rabanne's father, Francisco Rabaneda Postigo, was a military officer from Andalusia while his mother, María Luisa Cuervo Fernandez, was a seamstress from Santander. Both were involved in the Communist party. His father became commander of the Communist battalion, Larrañaga, in the Basque army, fighting against Franco's forces. He was captured and executed on July 15, 1937.
Rabanne's mother became chief seamstress at the House of Balenciaga in Donostia. When Bilbo fell, Cuervo took her family to Barcelona, and when that city fell in 1939, she fled, with hundreds of thousands of others, to France. After years of hardship, in 1952 the family made their way to Paris. There, Rabanne entered l'École Nationale des Beaux-Arts to study architecture.
While studying, he designed accessories for some of the biggest fashion names of the time: Balenciaga, Courrèges, Pierre Cardin, and Givenchy. Under Balenciaga and inspired by his architect colleagues, Rabanne began experimenting with using metal and plastic in fashion. He "went from architecture to fashion, making a synthesis of the two."
In 1965, he launched his own brand and presented his first collection a year later. In his fashion designs, he pushed far beyond the conventional. Indeed, he want to go "as far as is reasonable for one's time and not indulge in the morbid pleasure of the known things, which I view as decay… To be fixed in a concept is to become a living corpse."
Amongst other notable achievements, Rabanne designed several of the costumes in the movie Barbarella. In addition to fashion, he had a line of fragrances, exhibited drawings, and wrote a book.
Rabanne was also known for his eccentricities. He claimed he was 75,000 years old and had lived many previous lives. He made several predictions based on visions, including that the space station Mir would crash into Paris.
Rabanne died on February 3, 2023, at the age of 88.
Primary sources: "Basque Fashion in Exile: Creativity and Innovation, from Balenciaga to Rabanne" by Miren Arzalluz, in The International Legacy of Lehendakari Jose A. Aguirre's Government, edited by Xabier Irujo and Mari Jose Olaziregi; Paco Rabanne, Wikipedia.