The Basque Country, straddling the border of France and Spain, played a key role during World War II, serving as a conduit for Allied prisoners and Jewish refugees to escape the horrors of the war. Numerous Basques played an important part in helping those people cross the border. In the past, I've highlighted Florentino Goikoetxea, Kattalin Agirre, and Ana María Bidegaray. Today, it is Maritxu Anatol Arístegui's turn.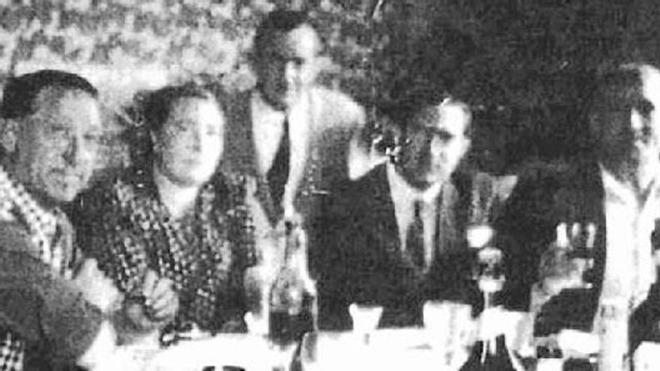 María "Maritxu" Anatol Arístegui was born in Irun (Gizpukoa) on January 24, 1909 to Anatolio Anatol Choperena, of Béhobie, in Lapurdi, and Concepción Aristegui Vidaurre, of Irun. As a result, Anatol had dual Spanish-French citizenship. As a young woman, her independent spirit shone through, as she asked to work in her family's custom agency, a job that was not viewed as suitable for women.
When the Spanish Civil War broke out, her family moved to the other side of the Bidasoa river, to a house called Kontxesinea, in the town of Béhobie. But it was only a few years later, in 1940, when the Germans confiscated part of Kontxesinea so that they could house their soldiers there. The French Resistance, specifically the Comet Line, approached her, asking her to gather information and to transport refugees, which she immediately accepted.
Being part of the Comet Line aligned nicely with her adventurous spirit. "I felt sorry for those boys, the pilots, and I saw that I could help them. That's why I started working in the Comet Line," she said. "If I were born again, I would do the same. I would get back into the Resistance. I like risk, adventure and the comfortable life annoys me, the soft life."
Her team consisted of at least three other Basques: Martín Hurtado de Saracho, Ambrosio San Vicente, and Alejandro Elizalde Irabarren. Anatol said that Florentino Goicoechea was also part of her team. Elizalde was the one that recruited Anatol to the Comet Line.
She and her team helped downed airmen reach safety, providing them with supplies. She would travel to Paris to pick them up and take them by night train, false documents in hand, first to Ambrosio San Vicente's place in Saint-Jean-de-Luz, and then to Oiartzun. She estimated that, in total she helped 39 Jews and 113 airmen cross the border into Spain.
However, the Comet Line for which she worked became distrustful of the seemingly close relationship she and her team had with the Germans and the local officials. She tried to argue that these relationships were necessary to get information, but eventually they cut her off.
On July 13, 1943, she and her team were arrested by the Gestapo. Three of them were deported to Germany, though they survived the experience and ultimately returned home. Anatol herself was taken to Gestapo headquarters in Baiona and the prison in Biarritz, but her calm and steely demeanor during her interrogation led to her release.
For her efforts, she received a communication signed by General Eisenhower, on behalf of the President of the United States, and the Medal of Freedom from both the United States and the United Kingdom, and the Legion of Honor, amongst other recognitions.
After the war, she returned to Irún. In 1948, she married Eugenio Angoso. After his death, she became the head of the Marichu Anatol Customs Agency. Maritxu died on August 27, 1981. The street she lived on was renamed in 2014 after her.
Primary sources: Rodríguez Álvarez, Mikel. Anatol Arístegui, Maritxu. Auñamendi Encyclopedia. Available at: https://aunamendi.eusko-ikaskuntza.eus/en/anatol-aristegui-maritxu/ar-18798/; La marcha de la Red Comète rinde homenaje a Maritxu Anatol, El Diaro Vasco; Maritxu Anatol, el último eslabón de la Red Comète, Deia; Maritxu Anatol, así fue la "Pimpinela Escarlata" Vasca