Rising out of the heart of the oldest parts of Donostia, Mount Urgull commands an amazing view of the city. Lisa and I had gone up part of it before, but we'd never made it to the top where the Castle lies. We did this time. It is a wonderful escape from the bustle of the city, and there were more than a few young people hiking up to pass the afternoon before hitting the bars of the Parte Vieja. At the top, the views from the Castle were spectacular!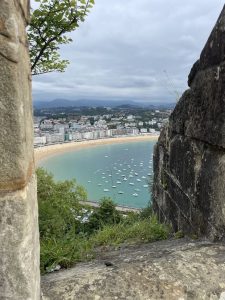 Mount Urgull rises some 123 meters (about 400 feet) above the city center of Donostia. In fact, at one time, there was only a small spit of sand connecting the mount to the coast, but over time that area was built up to form the Parte Vieja of Donostia. Even before it became a peninsula, it was an island and, over time, sediment built up from the river Urumea, connecting it to the mainland.
On top of the mount lies the Castle of Santa Cruz de la Mota, which dates back to the 12th century. It was built by Nafarroan king Sancho the Strong in 1194. In the 16th century, the structure was fortified to help in the defense of the city. The castle was the scene of much military activity. In particular, it played a role in the Siege of San Sebastían, part of the Peninsular War during which, after multiple attempts, the British took the city from the occupying French forces – Urgull was the last bastion of French forces during the siege. It also played an important role in battles during the Carlists Wars.
In 1921, the city acquired the mountain from the Ministry of the Army and converted it into a public park.
The statue of the Sacred Heart of Jesus is a relatively new addition, built in 1950. The associated chapel was built in 1955.
There are a number of additional sites to see in addition to the castle, including several batteries of canons – some built over the years by the French, the English cemetery, and the Historical Military Museum. The cemetery, dedicated in 1924, honors the British that died in the Siege of 1813. However, perhaps most impressive is the view of the city and La Concha beach.
The name Urgull is of Gascon origin, meaning pride. Its Gascon origins attest to the large Gascon population of the city at the time of the founding of the city in 1180.
Because of the mountain's isolation, a unique lizard, a version of the Iberian wall lizard (Podarcis liolepis sebastiani), has evolved there.
Primary sources: Arozamena Ayala, Ainhoa. Monte Urgull. Auñamendi Encyclopedia. Available at: https://aunamendi.eusko-ikaskuntza.eus/en/monte-urgull/ar-130925/; Urgull, Wikipedia; Monte Urgull, Wikipedia; Monte Urgull, donostiasansebastian.com; Urgull, Wikipedia