Over the last maybe 10 years, my dad has really taken to making some traditional Basque foods.  When I was a kid, he didn't cook at all — typical dinners prepared by dad involved stove fires. But, now that he has a bit more time, he's found his specialties, especially tortilla española. Along with mom's flan and arroz con leche, the holidays are filled with some wonderful food.
Dad has become well known locally for his prepared meats, his chorizo and jamon. Over Christmas break, I got the chance to help dad with the hams he was working on.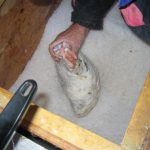 In the end, making jamon is not too hard.  Dad starts with the raw meat, skinned.  Each ham at that stage weighs something on the order of 25 pounds, depending on the pig. Depending on the size of the ham leg, he'll make anywhere between 4 and 12 hams at once.
The hams are packed into a box with salt and left there for about one day per pound, plus a couple of days.
After they've sat in the salt, dad takes them out, spraying t
hem down to wash off rocks of salt.  He then places them into tubs, fills those with water, and lets them sit for 24 hours. He empties each tub, and fills them again to soak another 24 hours.
After the second soaking, dad will rub the hams with juice from red txoritxero peppers and maybe some small amount of spice, like garlic salt or something.  Not too much.  Then, the hams are hung in a dry place for maybe 6 months to finish the curing process.
Dad is pretty serious about his hams.  It's the main thing he takes to parties and events at the Basque center where he lives.  He bought an industrial meat slicer since he makes so much ham.
Jamon is probably one of my favorite foods, certainly one of the foods I most enjoyed when I lived in Spain. Dad's hams compare with the best that I tasted in Spain. Likely to the detriment of my health, I can eat the ham almost as fast as dad can slice it with his industrial slicer.
It is interesting to note the cost of making these hams. The raw meat from the butcher costs about $1.85 per pound. I guess I don't know how much the salt costs, but it really isn't that much — there isn't anything overly special about the salt. Dad grows his own peppers, so there is no cost there. However, if you go to a specialty store that sells jamon serrano imported from Spain, you are easily paying $20 per pound. Considering that dad's hams are often on the order of 25 pounds, that ham would cost about $500. Not counting his labor, dad is spending maybe $50 per ham. Granted, there is no shipping costs for him and he doesn't have the label "made in Spain," but it tastes every bit as good to me!