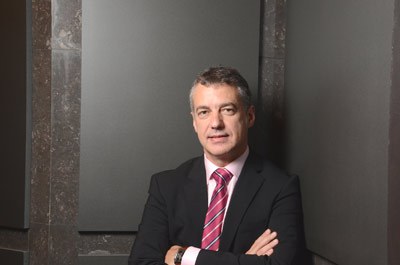 Mark Bieter is a Basque-American originally from Idaho who finds himself in Washington DC. He keeps a blog that touches pretty much any and all topics (Taylor Swift, really?), including many on the Basques and the Basque culture. Not only is Mark a very good writer, making each blog post interesting and intriguing, but he has some great insights and connections as well. His latest Basque-related blog, posted way back in early May (I just can't keep up with things sometimes), is an interview with the current Basque Lenendakari (President), Inigo Urkullu.
The Basque Country held elections back in October, elections in which the Basque Nationalist Party (PNV), which had been the party that held the presidency of the Basque Parliament ever since it was formed in the 1980s, retook that position after having lost it in the last election cycle, for the first time, to the Socialist Party. Inigo Urkullu, a former teacher, was elected president of the parliament and now has the task of guiding the Basque government through the economic crisis in Europe as well as past the legacy of ETA.
In this interview, Lehendakari Urkullu touches on the foreign policy goals of his government, the impact of the crisis on the Basque Country, the connections to other independence movements in Europe, and the importance of the Basque diaspora to the present and future of Euskadi. A true politician, however, he doesn't take sides in the crucial question of Athletic vs Real Sociedad… They always seem to evade the hard questions.
If you aren't reading Mark's blog, I highly recommend it, both for the pleasure of reading such great writing and for the perspective on a variety of topics. Thanks for sharing with all of us, Mark!