The Basque Country is central to two new Basque novels that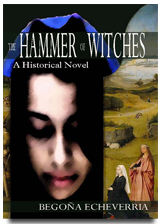 The Hammer of Witches, by Begoña Echeverria, takes place during the Spanish Inquisition, a time when Basques accused other Basques of being witches, when witches were burned for presumed heresy against the Church, and when a few brave souls fought back against such maleficent forces. Echeverria's novel, though fictional, takes place during the peak of the Inquisition, as a cast of characters including a priest, a mysterious woman, and a young lady all navigate this dangerous time. Echeverria did extensive research to make the setting of her novel as historically accurate as possible. Here is an interview both about her motivation and her approach to writing this novel. The book can be purchased form the Center for Basque Studies.
The Invisible Guardian (El guardián invisible in Spanish and Zaindari Ikusezina in Basque) by Dolores Redondo, isn't exactly new. Published in 2013, Redondo's novel takes place in the modern Basque Country, in the valley of Baztan. It follows a young detective, Amaia, who's job is to uncover the mystery behind some recent murders. However, there are elements of the supernatural, of Basque legend, that creep into the story, and that confuse Amaia's investigation. Could those stories her grandmother told her as a little girl be true? Could the fantastic creatures of legend be responsible for the murders?
Unfortunately, The Invisible Guardian isn't available in English, yet, though an English translation is expected in 2015. There is, however, a comic book in the works and possible movie plans. Further, The Invisible Guardian is the first in a series of three novels following Amaia's adventures in the Basque Country. Redondo has been labeled the rising Basque star of crime fiction, combining the standard tropes of that genre with a strong heroine and fantastical elements from Basque mythology to create something new.
Both of these novels sound intriguing and I'm looking forward to reading both.