I gave the eulogy at my dad's funeral on Wednesday, December 2. I'm posting my words here to honor his memory.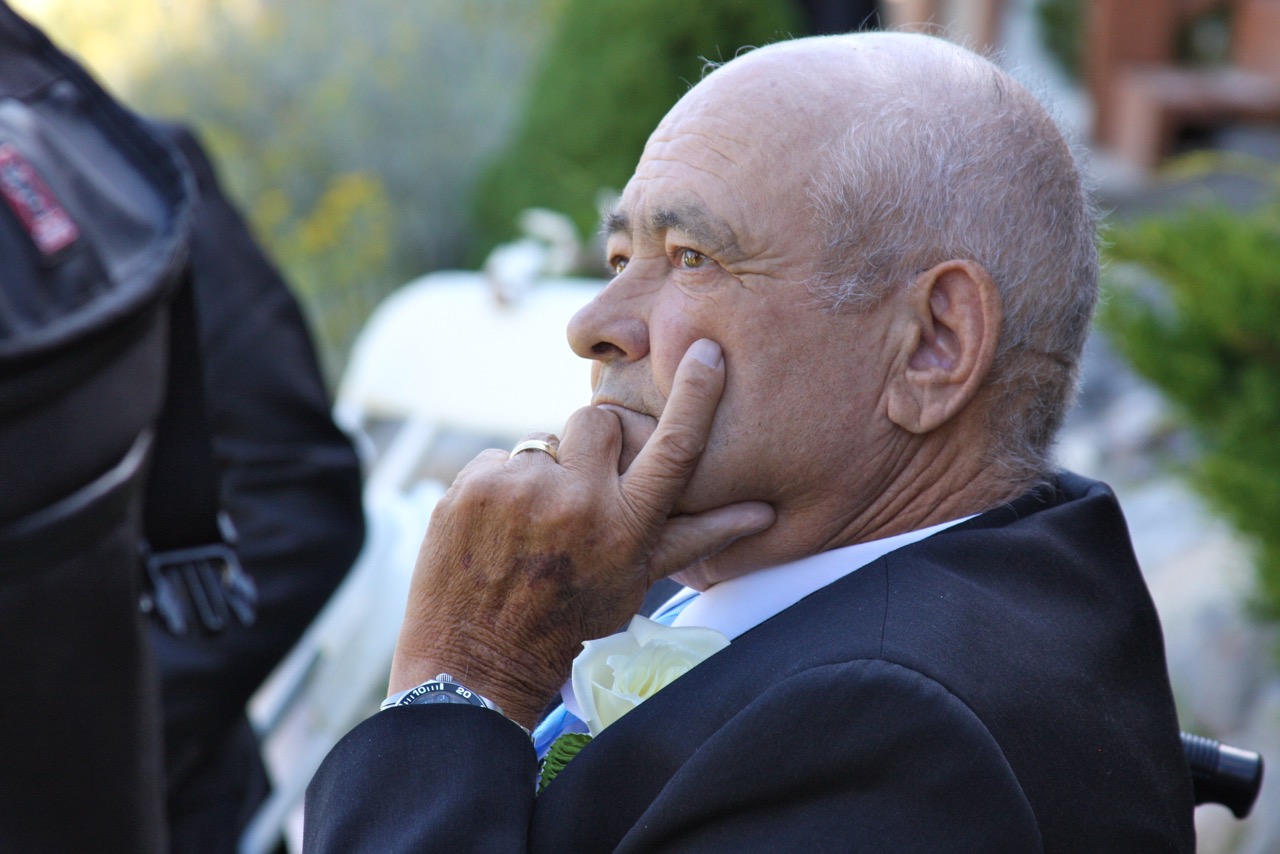 Pete – dad – was my inspiration. Like many of you here today, or your parents or grandparents, he gave up everything he knew, everything he grew up with, to build a better life. He came to what must have seemed the most desolate place on earth, especially compared to the vibrant green mountains and fiestas of the Basque Country. He left all of that behind to start a new life, a life that left him the hills around Silver City with nothing more than one fellow sheepherder and a dog to keep him company for months at a time. From this new beginning, he found a new life.
In his way, dad was a great man. He came from the most humble beginnings on a small farm in the heart of the Basque Country. He worked hard every day, eventually building his own business. He wasn't always successful. Everyone he talked to knew about his "deep shit hole." But, his work ethic was an inspiration. Though he never went to school – he actually ran from the priests that had come to take him to the seminary back in the Basque Country – he made sure that me and my brothers Tony and David had the opportunity he had passed on, to give us an even better life than he had.
Dad never gave me much life advice. At least with me, he was a man of few words. The one thing he did tell me was that he wanted me to have a job with an air conditioner. He had worked so many hours in the heat of the sun and the cold of the winter that he hoped I wouldn't have to do the same. So, in his own way, he encouraged me to follow my dreams, to strive for more, and to be the best man I could become. I owe him a debt greater than he ever realized.
As for many Bascos forged in the ruins of the Spanish Civil War and tempered in the lonely and barren hills of the American West, dad had a rough and gruff exterior. He wasn't an emotional man. Once in a while, his temper would flair up. But, hidden beneath that rough exterior was the most generous heart, a heart that was generous even before it was replaced by a younger model. His door was always open, a sol y sombra always ready for any visitor. And, more often than not, they would leave with a bag of peppers, a chunk of jamon, or a package of chorizo. Remembering the harsh days when he was in the back hills of Idaho and Oregon, he took the next generation of sheepherders, now from Peru, under his wing and helped them navigate life in their new home. He lived for his family and friends, and his home was always open to all of them.
Dad worked hard every day, until his health got in the way. In 1997, after a series of heart attacks, he had a heart transplant that gave him a new lease on life. As he liked to say, he got a new engine, but the chassis needed a lot of work.
And little by little, that chassis began to fail him. A long series of problems, rivaled only by the number of pills he took every day, slowly took away his strength. While his mind was sharp and alert to the end, his body slowly deteriorated. This was a new struggle, as his physical strength was the basis of everything he did. All he knew and did was about work, about physical labor, and that was taken away. He never had any hobbies that didn't involve physical labor, and this challenge was probably as great as any of the others.
But, with the constant and loving support of his wife Monica, he fought on. Together, they got nearly 20 years out of that heart and, because of it, he got to see so many things. He got to see his mom and brothers come visit him from the Basque Country, and me and my brothers got to see where our argumentative sides really came from. For me, some of my most precious memories are being able to take him back to Spain, the first time we had gone together, and drive him around his old stomping grounds. We visited so many distant cousins, it seemed that the whole Basque Country had to be related to us somehow. I didn't understand most of what I heard, but I could tell that dad enjoyed reliving his childhood adventures with all of those old friends.
Because of the time he and mom eked out of that new heart, he got to see all of his sons graduate from college, he got to see them all marry the most beautiful women, and he got to see all of them start their own families. That twinkle in his eye, the way he would stick out and bite his tongue, his smile – all of these live on in his grandchildren. He is a part of them and through them he continues to live on. His grandchildren are his greatest legacy.
Pete – dad – is gone. He will be missed. But he will never be forgotten. He lives on in the hearts of everyone he knew. If that isn't the sign of a great man, I don't know what is.
Goian bego, Aita. Maite zaitut.