As part of their ever-expanding quest to find fish and whales, the Basques ventured further and further west across the Atlantic. Of course, they are well known to have established settlements in Newfoundland, where they had oil processing plants to process the whale blubber into oil. However, things didn't always turn out so great everywhere they went. In Iceland, they were at the center of a massacre that led to a law allowing the killing of any Basque on sight.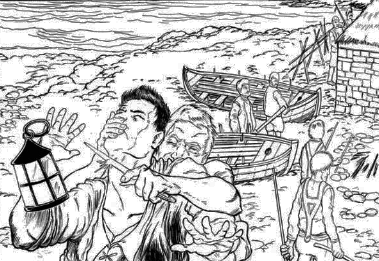 The Basques whalers often put into port in Reykjarfjörður, in Westfjords, Iceland. It seems that the Basques and the Icelanders had an agreement whereby the Basques probably stopped to replenish supplies and to process their catches before further voyages. This happened in 1615, as usual, but that year had been particularly cold and there was still ice up to the shores in the summer. The Basque ships, after leaving Reykjarfjörður, where smashed into the rocks.
The sailors, most having survived, wintered in Iceland. The crews headed by Pedro de Aguirre and Esteban de Telleria returned the next year to the Basque Country. However, things did not go so well for the crew of Martin de Villafranca. In the town of Þingeyri, some of the Basque crew entered a house and stole some fish. On the night of October 5, a group of Icelanders entered the hut where the Basques were sleeping and killed 14. Jón Guðmundsson the Learned was particularly appalled by the displaying, writing that the bodies were "dishonored and sunken into sea, as if they were the worst pagans and not innocent Christians".
Days later, a council met and decreed that all Basques were outlaws and to be killed on sight. On October 13, another 17 Basques were killed and their bodies mutilated. This was the last documented massacre on Icelandic soil
It wasn't until 2015, the 400th anniversary of what has been come to be known as the "Slaying of the Spaniards," or the Spánverjavígin in Icelandic, that the law was finally officially repealed, though there aren't any records of Basques being killed since 1615. During a ceremony in which a few Basque representatives attended, the Icelanders presented a memorial to the Basque whalers, with Westfjords district commissioner Jonas Gudmundsson stating that "This decision was made 400 years ago and it has never formally been repealed until now."
Primary sources: Wikipedia, The Guardian, The Old Salt Blog, Alchetron.
Thanks to Scott Powell for suggesting this Basque Fact of the Week.