I was going through some old papers and found a few obituaries and editorials I'd kept about my grandpa, Joe Telleria. I wrote about him way back in 2012 on the 20th anniversary of his death — about how he died while I was visiting the Basque Country for the first time. Anyways, I noticed that his birthday just passed — on January 14, so I thought I'd share some of these.
His obituary:
Jordan Valley, Ore. — The breath of life was taken from Jose M. "Joe" Telleria, 77, and his spirit was delivered to his Creator on Sunday, Dec. 1, 1991, at Jordan Valley, Ore.
Rosary for Joe will be recited at 7 p.m. Thursday, Dec. 5, at St. Bernard's Catholic Church, Jordan Valley, Ore. Mass of Christian burial will be celebrated at 11 a.m. Friday, Dec. 6, at St. Bernard's with the Rev. Jocelyn St. Arnaud as celebrant. Burial will follow in the Jordan Valley Cemetery. Arrangements are under direction of the Flahiff Funeral Chapel, Caldwell.
Mr. Telleria was born Jan. 14, 1914, at Jordan Valley, Ore., where he was reared and educated. The son of Basque immigrants, he spent the early years of his life in the traditional manner of Basque shepherds, tending to the family sheep business. In 1944, Joe married Maxine Scott and the following year he entered into a general partnership in the Scott Cash Store ("Telleria's Market") with Hugh Scott, his father-in-law. Joe retired from the business in November of 1988.
In his 77 years of a principled life, Joe befriended many people who have come to know him as a sensitive conversationalist and listener, a caring father of nine children and grandfather to 20 grandchildren. He was a provider to those who passed through Jordan Valley, needing something to eat. Those privileged to be close to him, knew the extent of his generosity.
In the twilight of his life, Joe and Maxine enjoyed walking and driving in the Owyhee Mountains, from Parsnip Peak to Silver City, Idaho, reminiscing about their 47 years together and about the fine people in the Jordan Valley community, past and present.
Survivors include his wife, Maxine; his sons and their spouses, Robert, Scott and Christine of Jordan Valley, Steven of Hayward, Calif., Joe Jr. and Doris, Blas and Bobbie, Pat and Evelyn, all of Boise, and Hugh and Penney of Salem, Ore.; two daughters and their spouses, Monica and Pete Uberuaga of Homedale, Idaho, and Johanna and Mark Mastin of Seattle, Wash.; and 20 grandchildren.
The family deeply appreciates the kindness and love that the community bestowed upon Joe, Maxine, and the family during the past several months. May we all share in the memory of Jose M. "Joe" Telleria of Jordan Valley, Ore., and the peace he now enjoys.
Memorials may be made to Father Jocelyn St. Arnaud, or the Jordan Valley Clinic.
A Tribute to Jose "Joe" Telleria
Dear Editor: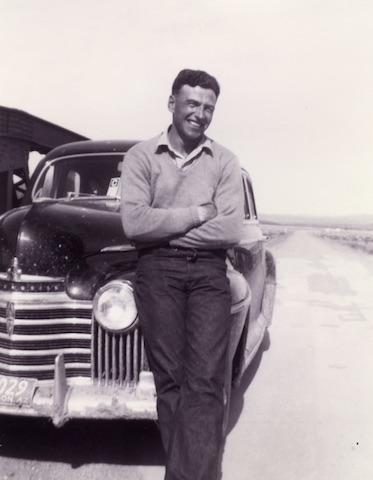 Funerals in close small communities like Jordan Valley are more than events in which the deceased and family are honored. Old friendships are renewed at them and those present have a look at their own mortality. Gray hair or the lack of the same has altered many of our appearances but the love and care we have for each other has grown stronger over time.
Today we said goodbye to Jose Telleria. Joe was the type of person that others sought out for counseling and advice for years. He was Jordan Valley's volunteer notary public.
Joe was in partnership with his father-in-law, Hugh Scott, until he and Maxine bought him out and Scotts Cash Store became Telleria's Market. Joe was always extending credit to bad risks. I remember him saying one time after a family had moved away without paying its bill, "I know I shouldn't carry them, but what can I do?" I guess Joe did what he did. If more were as charitable as Joe the world would be a much pleasanter place.
Before a modern telephone system was installed from Jordan Valley to the upper country, Joe served as "Honorary" switch board operator for the OCD "Whoop and Holler" hand crank system. Since he was on the lower end of the line a call to Juniper Mountain was difficult because everytime the telephone rang most everybody would [pick] it up to listen, causing the signal to get weaker and weaker. Only Joe could get the rubber neckers to hang up. One time he said over the telephone, "I need to call Fenwick and if all of you will get off I'll call each of you when I finish and tell you what I said."
What a sense of humor Joe had. I was in the store one time when a neighbor came in: "Joe, why in the hell don't you have a number one horse shoes?" "If you can't find a horse shoes to fit your horses then why in the hell don't you get horses that fit the shoes?"
We're going to miss you Joe, but I and others will continue to make our way to the back of the store out of force of habit to visit you. In your office, son Robert will be doing the bookkeeping. Setting on your chair, using your desk. Like you Joe, Robert has a good sense of humor. He'll need it.
Mike F. Hanley IV