Basques like to lift and carry heavy things. Basques like to cut up logs. Basques like to pull on ropes. And some Basques like to throw things. Perhaps the best thrower of things in Basque history was Félix Erausquin Erausquin. Born in Zeanuri, Bizkaia in 1907, Erausquin was one of the most decorated athletes of his time.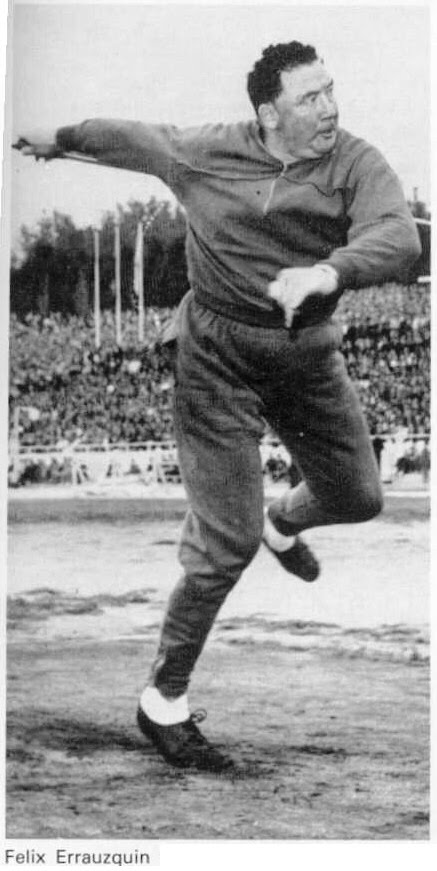 In his prime, Erausquin was champion of Spain in multiple sports that involved throwing objects. From 1932 to 1957, he won a total of 27 championships in shot put, discus, Basque bar, and the javelin. He is only one of only four athletes (the other three being García Tuñón, Ignacio Izaguirre and Miguel de la Quadra-Salcedo) who held Spanish titles in 3 out of 4 of the throwing events.
He was set to attend the 1936 Olympics, held in Berlin, but due to political upheavals ongoing in Spain at the time, he was unable to go. His first international competition didn't come until 1948, when he competed in the London Olympics in discus, finishing 14th out of 28 at an age of 41. He continued to compete into his 70s and won the senior World Championship in discus in 1979. At an age of 72, he threw it 39.44 meters.
He is perhaps most famous for developing an entirely novel way of throwing the javelin, a style that became known as the Erausquin style. Based on how he threw the Basque bar, in this new technique, the thrower spun around, giving extra heft to the javelin. In 1956, when he was 48 years old, he set a new Spanish record in the javelin with relative ease using his new technique. Also using this new style, Migual de la Quadra Salcedo beat the world record and, for the first time, threw the javelin more than 100 meters. However, within a year regulations were changed to ban this new technique, because of the dangers it posed by inexperienced throwers facing the audience as they spun. None of the records using the Erausquin style became official.
Palanka jaurtiketa, or metal bar throwing and often referred to as barra vasca, is a traditional Basque rural sport inspired by miners in which a heavy metal bar (8-25 kg or 17-55 pounds) is thrown as far as possible. While multiple throwing techniques exist, one is to turn or spin as it is thrown.
Erausquin was also an accomplished boxer and his large hands led to the nickname "la coz de mula" or "mule kick." His hands were so large that, when he played the piano, he had to use the sides of his fingers or he'd hit two keys at the same time.
Thanks to Eneko Sagarbide, Félix's great nephew, for educating me about Félix.
Primary sources: García Martínez de Murguia, José María. ERAUSQUIN ERAUSQUIN, Félix. Enciclopedia Auñamendi, 2020. Available at: http://aunamendi.eusko-ikaskuntza.eus/es/erausquin-erausquin-felix/ar-39685/; Wikipedia.