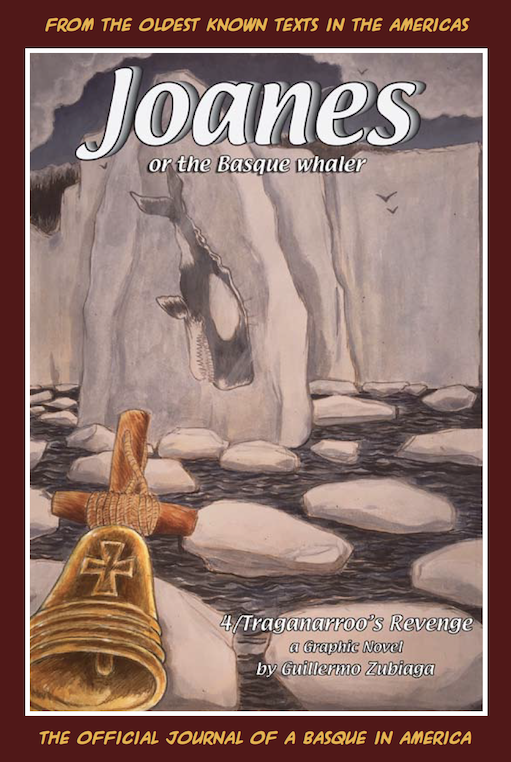 Episode IV, Traganarroo's Revenge: It is a period of civil war. Rebel ships, striking from a hidden base, have won their first victory against the evil British Empire. Joanes, aided by Rebel spies, managed to steal secret plans to the Empire's ultimate weapon. Pursued by the Empire's sinister agents, Joanes races home aboard his magic txalupa, custodian of the stolen plans that can save his people and restore freedom to the Basque Country….
Oops! Sorry, wrong Episode IV! Actually, I had the honor and privilege of writing the recap for Joanes 4. I got it right in print!
Joanes 4, Traganarroo's Revenge, by Guillermo Zubiaga, continues the adventures of Joanes, a Basque mariner who, in past adventures, had made a deal with a Basque sea-demon, the Traganarroo, in exchange for a magic txalupa, or whaleboat. Having gained wealth and fame, at least with his countrymen, he confronted the demon and seemingly defeated him. When we last saw Joanes, he was presumed dead, with a forgotten headstone on Newfoundland. But neither Joanes nor the Traganarroo could be silenced for long…
In the fourth installment of the Joanes saga, Zubiaga reveals that while the Traganarroo has been locked within ice in the Arctic, Joanes has been living a quiet life with a lamia, a beautiful woman with the feet of a duck. This latest installment follows the adventures of Joanes as the Traganarroo tries to extract his revenge for his imprisonment and Joanes' escape from his fate.
This issue is filled with the gorgeous art that is a hallmark of the Joanes saga. The attention to detail that Zubiaga gives his characters, his landscapes, and in particular his ships is always marvelous. A lot happens in this chapter of the story and sometimes it feels like almost too much is happening, that Zubiaga could have used twice as many pages and still not had enough space to tell his story. But, the action is fast paced and the story filled with various twists and turns to keep one engrossed. This is a fitting continuation of the adventures of our hero. One can only hope that, somehow, the adventures of Joanes continue.
Joanes' adventures are based in large part on the encounters that Basque whalers had with the now Canadian eastern coast. A lot of what we know about that part of Basque history is due to the efforts of Selma Huxley. Through her research, she rediscovered the 16th century Basque whaling industry that existed in Labrador and Quebec. In a recent interview appearing on About Basque Country, Zubiaga discusses how Huxley's discoveries inspired him to focus his Basque saga on Basque whalers and their adventures. Sadly, Huxley died on May 3, 2020, after a long and influential career examining the combined histories of the Basque Country and Canada.