Basque festivals, at least in the United States, are characterized by the sounds of folk music: the accordion, the tambourine, and sometimes the txistu. These are core elements of Basque culture and identity. However, in the Basque Country, there co-exists a very different flavor of music, with electric guitars, throbbing bass, and aggressive lyrics. Born from the "new Basque songs" of the pop-rock wave of the 60s and the death of Franco, Basque radical rock gave voice to a whole new generation.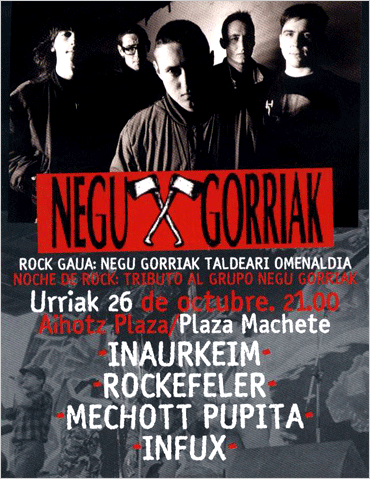 During the 1960s, a new wave of Basque musicians entered the scene, inspired by the likes of Bob Dylan, Atahualpa Yupanqui, and Elvis Presley. Musicians like Mikel Laboa, Benito Lertxundi, Xabier Lete, and Lurdes Iriondo brought that pop-rock sensibility to the Basque Country, melding lyrics in Basque with new international sounds.
However, there was still a traditional connection, a sense of the folkloric in their music. The 1970s served as a bridge, exploring new music combinations, with groups such as Oskorri combining traditional Basque sounds with pop and jazz. Harder, punk sounds were also coming to the fore, with bands like Eskorbuto and Tensión developing the sounds of Basque protopunk.
It wasn't until the 1980s, after the death of Franco, that the rebellious and loud sounds of genres like punk and hard rock and heavy metal hit the shores of the Basque Country, but when it did, it hit hard (no pun intended). New groups — including Hertzainak, Kortatu, and Barricada — spoke directly to the system, to societal norms, with very specific messages, often political in nature. This movement was christened "Basque Radical Rock" and was supported by a throng of fanzines and free radio stations.
Soon, sounds split and diversified, with more subgenres of music finding reach throughout the region. From the ashes of Kortatu arose Negu Gorriak, who had a large discography, produced many videos, and had some large international concerts. Sounds varied by region, as the more industrial environs of Bilbao led to a harder sound than typical elsewhere. The first true Basque heavy metal bands, Su ta Gar and EH Sukarra, came out of Eibar, in Gipuzkoa, but heavy metal subsequently sprouted in other parts of Euskal Herria, with bands such as Berri Txarrak in Nafarroa.
Today, the Basque music scene is extremely diverse, with the more traditional sounds of trikitixa and txalaparta mixing with reggae and ska. Jazz has always had an important place, as evidenced by the 55th edition of the Donostiako Jazzaldia.
Primary source: Zaratiegi Armendariz, Iñaki. Pop-Rock en Euskal Herria. Enciclopedia Auñamendi, 2020. Available at: http://aunamendi.eusko-ikaskuntza.eus/es/pop-rock-en-euskal-herria/ar-96673/