2020 has been a tough year for many. There is the stay-at-home, social distancing, mask wearing to protect us all from catching the coronavirus, but then there is all of the collateral effects that resulted: small businesses that struggled to stay afloat, kids attending classes virtually and missing out on all of the social aspects of school, parents juggling a million things at home while still trying to work, and, of course, the overworked frontline responders and medical staff that have endeavored to keep us all as safe as possible during this time. As we say goodbye to 2020 and welcome 2021, let's take a look at that hallowed Basque word, agur.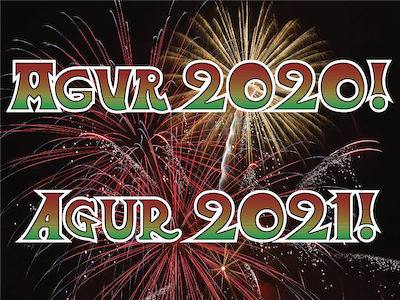 Agur is a very versatile word in Euskara. We often hear it used in the context of goodbye. For example, agur, banoa means "goodbye, I'm going." In this sense, agur-afaria is a farewell dinner.
However, agur has a broader meaning than just goodbye. It can also mean hello. You can use it when greeting people. Jaun-andereok, agur means "good evening, ladies and gentlemen." It is maybe a bit more formal than something like kaixo, but conveys a similar sense of welcome. agur-hitzak are words of greeting. agur egin, literally to "make agur," means "to welcome" or "to greet," as does agur esan (literally "say agur"). The song Agur Jaunak, often sung to formally greet people, can also be used to say goodbye. It's a way of giving honor to distinguished guests.
Just like in English where we can say goodbye to more than just people, agur can express that same idea. Take Gauzak aldatzen ez badira, agur zure pribilegioak! (If things don't change, you can say goodbye to your privileges!) Or agur, gure basoak! (our forests are gone!) Both express a loss of something, either physical or more abstract.
Agur can also have a religious context, conveying veneration: Jainko egiazkoari bakarrik zor zaizkion agurrak (the adoration that is due to only the one true God). agur on, or "good agur," means veneration.
Interestingly, the word agur likely comes from Latin, ultimately from the word augurium, which means "omen, announcement, hint of something future." However, there is no denying that it has become something new in Euskara, a fundamental element of Basque culture.
Primary sources: El enigma de nuestra palabra «agur» by Felix Mugurutza; Elhuyar Hiztegia