(At left, chorizo filler meat.) If you go to any Basque event in the US, one thing you will always find is chorizo. In Boise, instead of hotdog vendors, they sell chorizo on the street corners. And there are a number of meat packers that mass produce Basque-style chorizo. But, in my opinion, nothing beats home-made.
My dad has been making his own chorizo for maybe 20 years now.  He never had time when I was a kid, but once I was off to college, he started making both chorizo and ham, in the jamon serrano style.  Both are excellent and he and the guys he makes them with have gained a reputation.  The annual chorizo-making effort has grown and is an event in and of itself.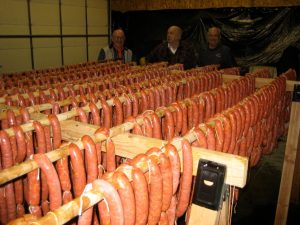 (The vets — Tony, Ramon and my dad Pedro — with the final product.) Even though I've had the luxury of feasting on dad's chorizo and ham for a while now, I've never actually participated in helping make them.  This year, during the Christmas holidays when we were visiting Idaho, I finally got a chance.  A six-man crew, including my dad, Tony Larrocea, Ramon Ocamica (the veteran crew), Steve Zatica, Rick Uria, and Stan Zatica, met at Rick's shop.  A few days earlier, they had mixed together the meat.  I unfortunately missed this all-important step, so I don't have a good feel for what the "secret" recipe is.  Suffice it to say that I did learn that they use the legs so as to ensure that there is enough meat in the filling.  On the day I showed up, they had 5 buckets of filling ready for stuffing in the casings.  And away we went.
Tony and Stan, at left, manned the stuffer, filling the casings with the chorizo meat.  Rick, Ramon, and Steve tied the filled casing into sausage-length segments with string.  I helped a bit with that and with poking the casings with a safety pin to release any trapped air.  My dad, as his legs were bothering him, began preparing the feast we would enjoy afterwards.
I don't remember now how long we were there, but it was the better part of the afternoon into the evening.  I'm guessing I was there for something like 5 hours (and I arrived a bit late too).  I think, all told, they made 300 pounds of chorizo, about 60 pounds each (I think Tony donated his services for the evening).  Once we were done, we had a feast fitting of the Basques, consisting of port ribs, solomo (pork loin prepared Basque style), home-made bread, courtesy of Teresa, Tony's wife, and stew, all accompanied by good drink.  We topped off the meal with several desserts, courtesy of Rick's family. It was an excellent way to end the day and celebrate our efforts.
(The full crew — Tony, Rick, Ramon, Pedro, and Steve, standing, and Stan, kneeling — at right.) Once the chorizos were finished, they let them sit in the shop, slightly heated (maybe 70 degrees, I think), for a few days to dry out.  Again, I was lucky enough to still be in town to get to try a few, just a few days after they were made.  And they were excellent!  One of the best batches yet.  Dad made sure to send me home with enough to tide me over until the next time I make it back to Homedale.
The whole experience was great.  While I'm a carnivore, and enjoy meat, I'm not a hunter, and have never really participated in any way in the production, if you will, of the food I eat.  So, it was a good experience for me to get into the nitty-gritty, at least a little, and help make one of my favorite foods.  They always say that one thing you should never observe is how sausage is made.  And, while I missed the step that is most likely the origin of that saying, I definitely became even more appreciative of chorizo and what goes into making them.
Eskerrik asko, jaunak!  Thanks for letting me take part!