A couple of links I've been sent or found in wanderings of the web.
First, Louis Arriaga Jr has a fascinating story of misunderstandings and miscarriage of justice (even one of the sentencing judges felt this way, but couldn't do anything about it).  Clearly, Arriaga is of Basque descent, though his connections to Spain are somewhat distant.  He has a site devoted to his story, but a summary of it can be found in this Phoenix New Times article.
Mugalari means "someone who crosses boarders", a reference to the smugglers who work across the French-Spanish border.  Mugalari is also the name of a new blog, a blog devoted to showing you "other" aspects of the Basque Country, not necessarily those that would show up in a guide book.  Mugalari has traveled himself extensively and this blog is his attempt to do for the Basque Country what would have been nice for him in other parts of the world.
And speaking of visiting the Basque Country, the region of Debagoiena, which includes the famous University of Onati as well as the shrine Arantzazu, has a website devoted to tourism in the area. This includes guides, photos, and information about hotels and more to help you in your visit to the heart of Gipuzkoa.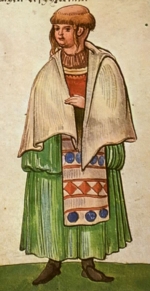 I ran into this next site just searching for Basque images on Google.  It is amazing what you find sometimes.  I've often been asked, especially by adherents of the Society for Creative Anachronism, what the Basque dress of the Middle Ages was.  It's hard to find much about that in English, though I guess I would think there is quite a bit in Spanish and Basque.  In any case, this site has quite a few images devoted to the dress of Basques from that era.  Some very interesting images.
Finally, the Basque Country, like the UK and other parts of Europe, was recently hit by some winter weather, and this blog of EiTB captures some of the resulting spectacular scenery, including this image of a snow-covered La Concha.  The Basque Country looks very different in white than it does in the typical green we are more familiar with, though just as striking and beautiful.