1407: Pedro II López de Ayala, politician and writer born in Vitoria, dies in Calahorra. He originally supported Pedro of Castille in his claim to the throne before switching sides to support the pretender to the throne, Henry of Trastamara. He fought with Henry at the Battle of Najera (Navarette) in 1367 and was captured by the Black Prince but was later released. He is best remembered for his Libro Rimado de Palacio ("Palace Verse" or "Rhymes of the Court"), in which he acidly describes his contemporaries and their social, religious, and political values.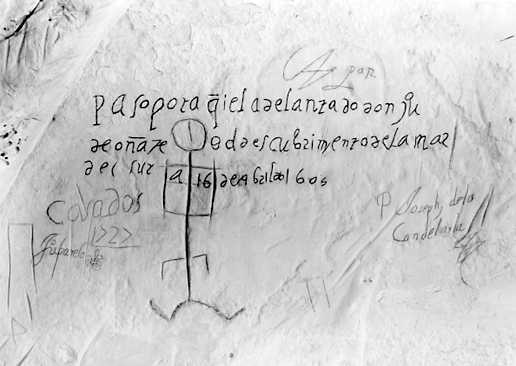 1605: Juan De Oñate, founder of Santa Fe, New Mexico, inscribes his name on El Moro, a sandstone promontory that features ancient Native American petroglyphs. The Inscription reads "Passed by here the Governor Don Juan De Oñate, from the discovery of the Sea of the South on the 16th of April, 1605."
1825: Willem J. Van Eys, Dutch linguist who dedicated more than 30 years of his life to the study of Euskara, is born in Amsterdam.
1861: Toribio Alzaga Anabitarte is born in Donostia. He is the most popular author of works for theater in the Basque language. He wrote his comedy, Aterako gera (We will leave) in 1888 from his refuge in Ziburu. From then on, he dedicated his life to comedies and even opera, always in Euskara.
1933: The second Aberri Eguna, or Basque National Day, is celebrated in Donostia. The central meeting takes place in the field of Atotxa. Speakers include Manuel Carrasco Formiguera, President of the Democratic Union of Catalonia and Francesc Maspons Anglasell and Ewal Ammende, vice president and general secretary of the Congress of European Nationalities (CNE).
1989: Pedro Manuel de Arístegui Petit, Gipuzkoan diplomat, is killed in Beirut, along with his father-in-law and sister-in-law, by a Syrian rocket while he was Spain's ambassador to Lebanon.