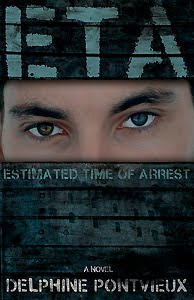 Delphine Pontvieux, a member of the forum, has just released her novel ETA: Estimated Time of Arrest…
WRONG PLACE…
After participating in a pro-separatist march that turned violent in January of 1992, 21-year-old Lorenzo Lartaun Izcoa is wrongly charged with the fatal bombing of a police station in his home town. Irun is a small city located in the heart of the Basque country, trapped between France and Spain, and struggling for independence. Lartaun finds himself on the Spanish Secret Service's "most wanted" list, branded an active member of the Basque terrorist group ETA.
He has no choice but to flee his country.
Two years later, Lartaun's childhood friend bursts back into his life. In exchange for a "small favor," he offers him a passport and the chance to return to Europe under a new identity. Lartaun seizes the opportunity.
…WRONG TIME
Back in Europe, hiding away in a commune in the French Pyrenees Mountains, Lartaun meets Faustine, a young French environmentalist. As their relationship renews his belief in a future worth fighting for, Lartaun realizes, albeit too late, that the favor he owes his friend is not so "small" after all.
FREEDOM COMES AT A STEEP PRICE
HOW FAR WOULD YOU GO TO PROTECT YOURS?
Fermin Muguruza, well-known Basque musician and film maker, writes about Estimated Time of Arrest: "A beloved homeland, mountainous landscapes, devotion, action, love, celebration, friendship, music, commitment, vengeance, dignity, and desire for freedom and independence all turn out to be explosive ingredients when mixed together and left to simmer in the pressure cooker known as the Basque Country. Also called Euskal Herria, it is a place that spans the south of France and the north of Spain. It is the country of the Basque people, those who speak Euskara, the Basque language.
Delphine Pontvieux is a connoisseur of the essential ingredients that comprised the Basque Country in the '80s and '90s. If we add her to the mix as "etxekoandre," or Executive Chef, the recipe becomes perfect, stewing over her creative flame. She brings Estimated Time of Arrest to a mouthwatering emotional flavor, serving a complex dish of literary mastery."
Interior art is by Guillermo Zubiaga, who was interviewed on this site back in 2007.
More information can be found on Delphine's site www.missnyet.com.